Born Iconic: The New XSR900 GP
The embodiment of Yamaha Racing history.
Blending nostalgic design with the latest technology.
The Sport Heritage range pays tribute to some of the most iconic motorcycles from Yamaha's rich history by blending nostalgic design with the very latest in high performance engine and chassis technology.
Each XSR model takes inspiration and design cues from some of the most significant bikes built by Yamaha in its 68-year history but sees no compromise in modern day performance by bonding this timeless beauty with cutting edge riding technology.
Racing is in Yamaha's DNA. Yamaha Motor Company has been competing in, and winning, motorcycle races since its inception – pushing the limits of both man and machine. Yamaha's first ever motorcycle, the YA-1, won the Mount Fuji Ascent Race in 1955 shortly after the company was founded.
Since then, Yamaha has amassed countless victories at all levels from local grassroots amateur racing to the premier class of Grand Prix.
First released in 2016, the XSR900 has long featured subtle hints to Yamaha's racing pedigree and in 2021, the latest generation XSR900 went one step further with clear design cues taken from race machines of the 1980s and 1990s while maintaining its position as a heritage roadster.
For 2024 the nod to Yamaha's racing tradition takes another leap with the introduction of the new XSR900 GP, which pays homage to some of the most celebrated race machines from Yamaha's illustrious past in a way never seen before in the Sports Heritage range.
Combining a sense of 1980s Grand Prix nostalgia with the very latest technology including the iconic, torque-rich 890cc CP3 engine, R1-derived six-axis IMU and lean sensitive rider aids, the XSR900 GP embodies Yamaha's Racing history without sacrificing modern day performance.
The 'Golden Era' of Grand Prix racing
Yamaha first entered a road racing world championship event at the Grand Prix of France in May 1961, and took its first GP victory in the 250cc class two years later. From there, the success flowed freely with Phil Read taking Yamaha to its first rider and constructor titles in 1964. To this day, Yamaha have now won over 500 Grand Prix races and are 39 times Grand Prix world champions.
The first premier class title came for Yamaha in the 1970s, with Giacomo Agostini, and further championship crowns followed later in the decade.
But it was in the 1980s that Yamaha secured its legacy in what would become known as the 'Golden Era' for Grand Prix racing. 'King' Kenny Roberts rode his YZR500 to a third consecutive title in 1980 but, following that success, Yamaha endured a tough few seasons battling for supremacy with its rivals.
This led to a re-think in approach, with a change in focus to developing race bikes with a priority on a rider's feeling with the machine.
Not only would this new strategy lay the groundwork for further Grand Prix success (Yamaha won six 500cc Grand Prix titles between 1984 and 1992), but technology developed during this period went on to shape the future of the production sport motorcycle to this day.
Having moved to a slimmer V4 engine in 1982, Yamaha's engineers turned to developing a frame in which to house this powerplant. The idea was to produce a frame the same width of the V4 motor that would envelop it, like a cage.
This marked the birth of what would become the iconic Deltabox frame, which first featured in the 1982 YZR500 OW61 Grand Prix machine. Offering outstanding rigidity and feedback, just where a rider needed it most, the Deltabox posed such a significant step forward that just three years later Yamaha introduced it to a production model for the first time, with the TZR250 bringing the characteristics of the YZR factory race machine to the road.
And now, 40 years on, the Deltabox style frame remains at the heart of many Yamaha motorcycles, including the new XSR900 GP.
Born out of respect
The English proverb 'Manners Maketh Man' derives from a shared understanding that courtesy, good manners, and respect are essential to the preservation of good human interaction and relationships.
It is this concept which formed the starting point for the design of XSR900 GP, in harmony with the Faster Sons philosophy of respecting the origin, learning from the past and creating a better machine for the modern-day rider.
The aim was not to create a replica, but instead release a model that pays the utmost respect to the past, while holding its own with the latest in performance and technology. That is the XSR900 GP.
A sense of nostalgia in every detail
1980s inspired cowling
Aesthetically, Grand Prix bikes took a significant step in the 1980s, moving from the curvaceous bodywork of the 1970s towards the 'boxier' design seen from the mid-80s onwards. These squarer fairings would set the trend for the next decade not only at Grand Prix level but in production bikes too.
The XSR900 GP features an upper cowling reminiscent of this era, not only with a clear influence from the 1980s YZR Grand Prix bikes but also with notes of the FZR and TZR production sports machines of the late 1980s and early 1990s. To maintain the race-bike look, the XSR900's round LED headlamp is replaced by a compact lens module, neatly hidden in the front cowling, creating a sense of unity with the front fairing while maintaining excellent illumination.
The bodywork is not only a symbol of the past in looks alone, but the method in which it is fixed in position is also inspired by the 1980s, with a tubed structure connecting the cowling to the frame and straight brackets supporting the dash creating a rider's view with a genuine golden era feel.
To emphasise the classic cockpit feeling, the upper fairing stay is supported by a nut structure identical to that used for the original TZ250. In true racing style, this structure is fastened with a beta pin, marking the first time Yamaha has used such a fastening on a mass-produced production model for public road use.
The function behind the move from the curvaceous cowlings of the 1970s to the more squared off style of the 1980s was to both improve aerodynamic efficiency and protect the rider from the wind coming from higher performance; and this is no different with the XSR900 GP.
While the windscreen and individual knuckle guards incorporate a taste of the 1980s; it's not solely about looks. The power output and gear ratio of the 890cc CP3 engine are identical to that of the XSR900, but the front cowling structure of the XSR900 GP increases both acceleration and top speed while the ducts on the side panels efficiently discharge heart from the radiator to maximise cooling performance.
The colour-matched seat cover fits over the passenger seat to complete the racer look with a boxy 1980s style rear end hiding the rear light, while a seat stopper on top of the seat cowling keeps the rider in position to enhance the feeling of acceleration.
Colours reminiscent of the Rainey years
Adorned in one of the most iconic Yamaha Grand Prix colours of all time, the XSR900 GP is available in a heritage livery inspired by the machines ridden by riders such as Wayne Rainey to multiple 500cc Grand Prix World Championships in the 1980s and early 1990s, complete with authentic yellow number boards on both front and rear cowlings.
The Deltabox-style chassis and swing arm are finished in silver to better evoke the era of the 1980s prototypes and emphasise the character of the Deltabox style frame itself.
A sportier ride
Race-style clip on handlebars
Separate 'clip on' handlebars add to the racer-style cockpit and offer a sportier riding experience. The revised handlebars drastically change the riding position from the XSR900, moving the rider further forward on the machine into a sportier riding position, increasing the load on the front to offer the more precise feeling expected from a race-style machine.
However, since the model is not purely focused on racing or circuit riding, care has been taken to ensure the riding position does not lean forward excessively, instead offering a balance which can be enjoyed on the road without discomfort. The comfort is emphasized via a thicker, more supportive seat.
The aluminium diecast footrests are adjustable to two different positions but come out of the factory set at the upper position to emphasise the sportier riding position.
Tuned rigidity
To accommodate the extra load on the front end of the machine, as a result of the more forward riding position, the XSR900 GP areas surrounding the frame have been tuned to optimise stability in turning. The subframe has also been reinforced over the one found on the XSR900.
To further correspond with this front end-led riding style, the XSR900 is the only CP3 model to feature an aluminium steering stem shaft, adjusting rigidity in the steering area to better balance the often conflicting feelings of lightness and stability when changing direction or under rapid deceleration.
In conjunction with the lightweight Spinforged wheels and new Bridgestone Battlax Hypersport S23 tyres the rider can have precise confidence in placing the XSR900 GP exactly where they wish.
Cutting edge technology
High performance brakes and suspension
In line with the mantra of blending yesterday's style with modern technology, the XSR900 GP boasts the latest in suspension and braking components.
The KYB upside down front forks are fully adjustable for Preload and compression damping as well as rebound damping, so the ideal setup can be found for front end feel. The link-type rear suspension actuates a forward-inclined fully adjustable KYB shock virtually hidden from sight to maintain the slim and sporty performance at the rear.
Remote pre-load adjustment makes customising the ride a simple task.
A Brembo radial front master cylinder underlines the bike's cutting-edge specification and backs up its sporty potential, while the brake hoses have been optimised to improve braking control in sportier riding, especially under harder stopping forces.
Yamaha Ride Control (YRC)
Further maintaining the mix of nostalgic style with the latest in high performance technology, XSR900 GP riders can customise their riding experience via Yamaha Ride Control (YRC). For simpler use, engine power characteristics and rider aids are integrated to quickly allow changes to the level of electronic intervention depending on rider preferences and road conditions.
Three pre-set integrated riding modes, 'SPORT', 'STREET' and 'RAIN' feature factory settings with different intervention levels to suit different conditions. These are complemented by two Custom settings, which enable the rider to manually select their own power and intervention settings for the various electronically controlled, lean-sensitive rider aids – all of which can be set using a smartphone via the MyRide app.
5" TFT meter with full connectivity
A new five-inch full colour TFT display is housed in the retro-styled cockpit. While riders can choose from four different themes to suit a range of mindsets, a traditional analogue-style tachometer theme, inspired by race bikes of yesteryear truly enhances the period riding experience.
For an enriched riding experience, smart phone connectivity comes as standard on the XSR900 GP via a built-in Communication Control Unit (CCU), ensuring riders can stay connected while riding by linking their smart phone with their machine via the free MyRide Link app. As well as seeing call and message notifications on the 5" TFT display, a new dimension is added to the ride by the possibility of taking calls and listening to music via a Bluetooth headset*.
Once connected, riders can also make use of the integrated Garmin StreetCross navigation system which will display Turn-By-Turn navigation on the 5" TFT dashboard.
There is also the option to provide power to external devices by the new USB Type C socket located near the dashboard.
*Bluetooth headset not included with bike
New ergonomic switchgear
New integrated handlebar switch assemblies enable the rider to operate the wider range of functions of the new XSR900 GP including smart phone connectivity, navigation and riding modes as well as interrogating the various menu options.
Featuring a clear, logical and simple design – the shape, movement and ergonomic layout of the buttons have been designed with intuitive movement in mind, meaning riders can cycle through the different functions with ease.
To aid navigation of busy road environments, a soft-click of the indicator switch will flash the turn signals three times for use when lane-changing or when only brief indication is required. A full-click of the switch will result in continuous flashing until 15 seconds has passed and when the machine has travelled more than 150 metres.
A new Emergency Stop Signal (ESS) function reacts to sudden braking by engaging the hazard lights to warn road users behind the vehicle is stopping at speed in an emergency situation.
Extra support from advanced six-axis IMU with lean sensitive rider aids
Developed directly from the electronic systems on the R1, the XSR900 GP's high-tech six-axis IMU constantly measures acceleration in the forward-backward, up-down and left-right directions – as well as the angular velocity in the machine's pitch, roll and yaw directions.
The six-axis IMU is able to send data in real time to the ECU which controls the suite of electronic rider aids, including the lean sensitive Traction Control System (TCS), Slide Control System (SCS) as well as a front wheel Lift Control System (LIF) and Brake Control System (BC).
XSR900 GP also becomes the first Sport Heritage model to be equipped with the third-generation quick shift system, enhancing the ride by enabling clutchless downshifts while accelerating and clutchless upshifts under deceleration in addition to the standard functionality.
Technical Highlights
Distinctive design evocative of Grand Prix racers of 80s and 90s
New 5-inch full colour TFT display with connectivity
High grade fully adjustable front and rear KYB suspension
Newly designed clip-on handlebars and handlebar switches
Deltabox-style chassis with optimised rigidity
Comfortable main seat, new side covers and removable seat cover
New footpeg style and positioning
Yamaha Ride Control YRC and 6-axis IMU
Cruise control, third generation Quick Shift System and A&S Clutch
EU5+ compliant sophisticated high-torque CP3 890cc engine
Yamaha Spinforged wheels fitted with Bridgestone Battlax Hypersport S23
Colours
The new XSR900 GP will be available in two colours Legend Red and Power Grey.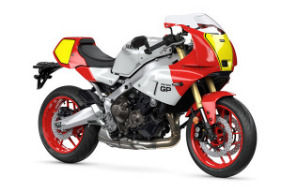 XSR900 GP



Yamaha's 2024 Ténéré 700 Extreme
Yamaha strengthens its class leading Adventure line-up
Since its launch in 2019, the Ténéré 700 has become one of Yamaha's best-selling models. Powered by Yamaha's outstanding 690cc high torque CP2 engine and equipped with a versatile chassis with premium suspension systems, the Ténéré is the most successful bike in its category.
Yamaha is always looking to offer customers a diverse choice to match their different lifestyles and needs. So for 2024, the brand's class-leading Adventure range will be further strengthened and diversified with the introduction of the Ténéré 700 Extreme.
Ténéré 700 Extreme– Hardcore off road performer
The bike's name says it all – this is a hardcore off road performer with extended long travel suspension and a wide range of special chassis components designed to further enhance its go-anywhere essence.
For class-leading off-road handling with lightweight agility on rough terrain, the Ténéré 700 Extreme features premium fully adjustable KYB suspension systems with 20mm extra travel at the front and rear (compared to the Ténéré 700). For super-smooth front suspension action, the forks are treated with a durable Kashima coating that helps to eliminate stiction at lower speeds – and the gold coloured fork inner tube finish also underlines the bike's overall feeling of quality.
The fully adjustable KYB suspension can be set up to work effectively with a variety of rider physiques and different riding styles, making the Ténéré 700 Extreme a serious hardcore performer. Aimed at riders with motocross or enduro experience who want added performance for the most challenging off-road terrain, this latest Ténéré adds an exciting new dimension to the Adventure category.
Factory-equipped with lightweight titanium footrests, as well as an aluminium radiator protector and chain guide, this high specification Adventure bike is ready to prove itself in a wide range of extreme conditions. Its two-piece front fender assembly consists of a colour matched high level enduro-style fender and a separate lower section to protect from dirt and debris – while a flatter one-piece rally seat enables quick and easy bodyweight shifting.
Its vertical 5-inch TFT meter features 3 separate themes, including a Rally Raid roadbook-style display for effective navigation in the back of beyond. Other exclusive features on this exciting new addition to the Ténéré family include lightweight competition type titanium footrests with 35% greater surface area for reduced pressure on boot soles – and to handle the most inhospitable surfaces the bike's ground clearance is increased to 260mm.
Race-proven performance and class-leading durability
The Ténéré's outstanding off road performance has been highlighted by Yamaha factory riders Alessandro Botturi and Pol Tarrés who have victoriously ridden their bikes in the world's toughest Rally Races.
After creating history at the TransAnatolia rally raid with an epic 1-2 podium, Tarrés and Botturi will debut the 2024 Ténéré 700 Extreme at the last stage of the Italian Motorally Raid TT championship taking place in Olbia from 20th October.
With its premium long travel KYB suspension, high quality chassis components and upgraded TFT meter, the Ténéré 700 Extreme is a remarkably capable machine that can take adventurous riders into the wilderness and further to the Next Horizon.
Ténéré 700 Extreme: Key features
Fully adjustable 43mm KYB Kashima coated front forks, 230mm wheel travel (20mm more than Ténéré 700)
Fully adjustable KYB piggyback rear shock absorber, 220mm wheel travel (20mm more than Ténéré 700)
260mm ground clearance (20mm more than Ténéré 700)
3-theme connected 5-inch vertical TFT meter with Rally Raid roadbook-style screen option
Left side switch cluster with trip switch
Lightweight high-grip titanium footrests with 35% greater surface area
Flat one-piece seat with 20mm additional padding giving higher 910mm seat height
High level colour matched front fender
Aluminium mesh radiator protector
Chain guide
Gold anodized aluminium spoke wheels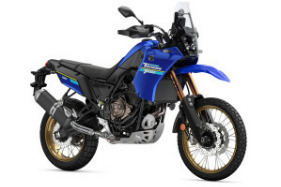 Tenere 700 Extreme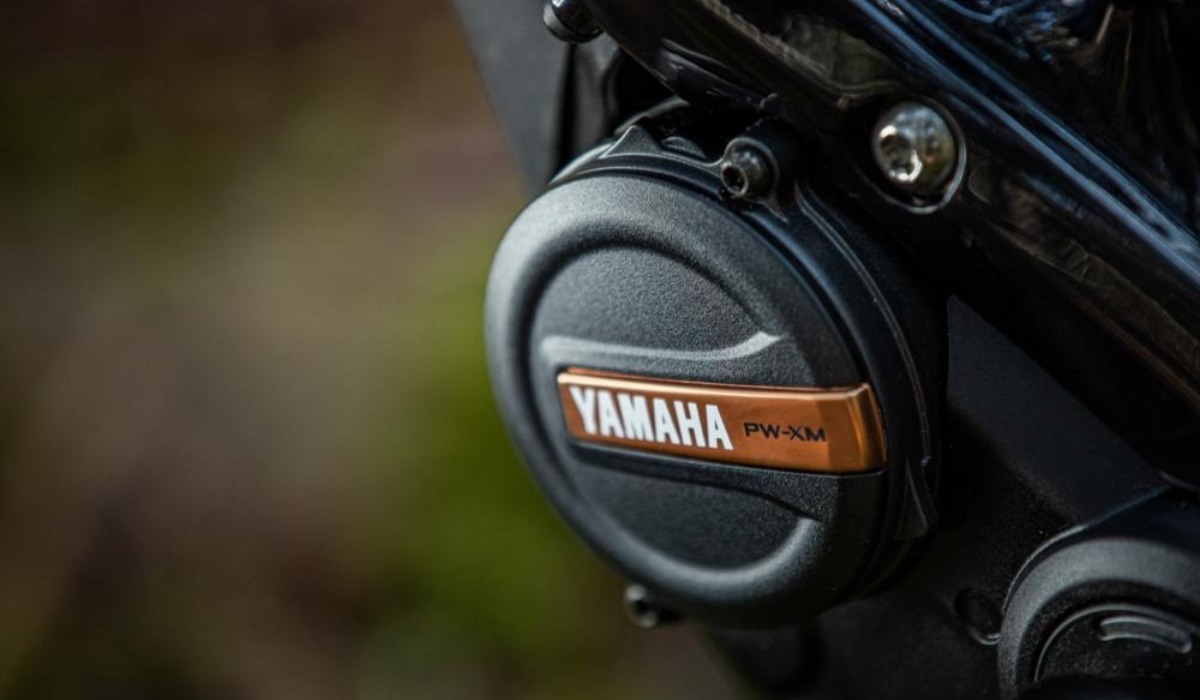 Yamaha's new PW-XM flagship eMTB drive unit: Marking thirty years as the pioneer of the eBike system.
In recent years the global demand for eBikes has expanded dramatically as bike manufacturers have fully embraced the latest drive unit technology and introduced stylish new models offering increased range and performance. The eBike segment now accounts for a significant proportion of the total bicycle market, and this quiet and economical form of transport is the fastest-growing sector in zero emission personal mobility.
Yamaha Motor pioneered the first e-Bike back in 1993. It mounted the first iteration of the company's signature Power Assist System (PAS), in which an electric motor is used to provide an assistive force to the pedalling power of the rider in a manner that feels natural and in tune with human perceptions. Simply named the "PAS" after its headline feature, the bicycle was hailed as the first of its kind in the world and enjoyed a successful market debut.
Key factors behind the worldwide success of Yamaha's range of compact, high torque drive units include class-leading electronic control technology that provides instant power with a seamless and natural feeling – as well as high quality, outstanding reliability, and a first-class global backup.
New PW-XM: Yamaha's new ultra-light flagship eMTB motor
The new PW-XM is the lightest drive unit in the range, and its launch 30 years after Yamaha invented the eBike underlines just how far this zero-emission technology has progressed.
Aimed at the high-end eMTB market, the PW-XM features a specifically-designed magnesium housing that keeps its overall weight down to just 2.6 kg. Yamaha has extensive experience in the design and manufacture of specialist magnesium components for its 1,000 cc R1M Supersport motorcycle, and this knowledge has been used in the construction of the ultra-light PW-XM.
With the reduced weight and the improved heat dissipation, this flagship motor is able to produce consistently strong torque even when under high loads for long periods.
As well as standing for 'Magnesium', the 'M' in PW-XM is also a reference to the motor's assembly place in Morimachi, Japan – a bike-centric city famous for its mountain biking and cycling tourism, making it the perfect place for the birth of this new flagship eMTB drive unit.
Highest torque-to-weight ratio
With a maximum torque figure of 85 Nm and weight of just 2.6 kg, the PW-XM has the highest torque-to-weight ratio in the Yamaha range, making it an ideal drive unit for eMTB applications. It is also fully compatible with Yamaha's existing PW-X3 and PWseries S2 drive units, enabling manufacturers to create three different eBikes using the same chassis design.
Yamaha Pure Ride: Ideal mountain biking power delivery
With its minimal external dimensions combined with Yamaha's highest torque-to-weight ratio, the PW-XM is designed specifically for the premium eMTB market. Its compact layout offers greater freedom to bike manufacturers in their next generation chassis designs – and the powerful torque ensures strong performance on Alpine tracks, steep hills or sandy trails.
Pure Ride is how Yamaha describes the unique power delivery of the new PW-XM. Using state-of-the-art sensing electronics including Automatic Assist Mode, tuning detection algorithms and Zero Cadence Technology, the PW-XM rider will experience strong, seamless and natural feeling power at all times.
Displays and batteries
The new PW-XM can be paired with any of the company's displays and batteries, best in conjunction with the minimalistic and highly technical Interface X.
PW-XM Product Highlights
All new premium eMTB drive unit, designed for extreme off-road challenges as well as sporty trail rides.

Best in class riding experience: 85 Nm and 2.6 kg – Yamaha's most powerful and lightest design, with the highest torque-to-weight ratio.

Magnesium housing, manufactured in house using Yamaha Motor's motorcycle technology, ensures highest quality look and feel.

Improved heat management.

Equipped with Yamaha's advanced sensing technologies – Zero Cadence Technology and Automatic Support Mode – for a powerful, responsive and seamless Yamaha Pure Ride experience.

Walk-assist feature.

Compatible with PW-X3 and PWseries S2 motor brackets – one frame design can accommodate three different Yamaha motors.

Compatible with all Yamaha displays and batteries.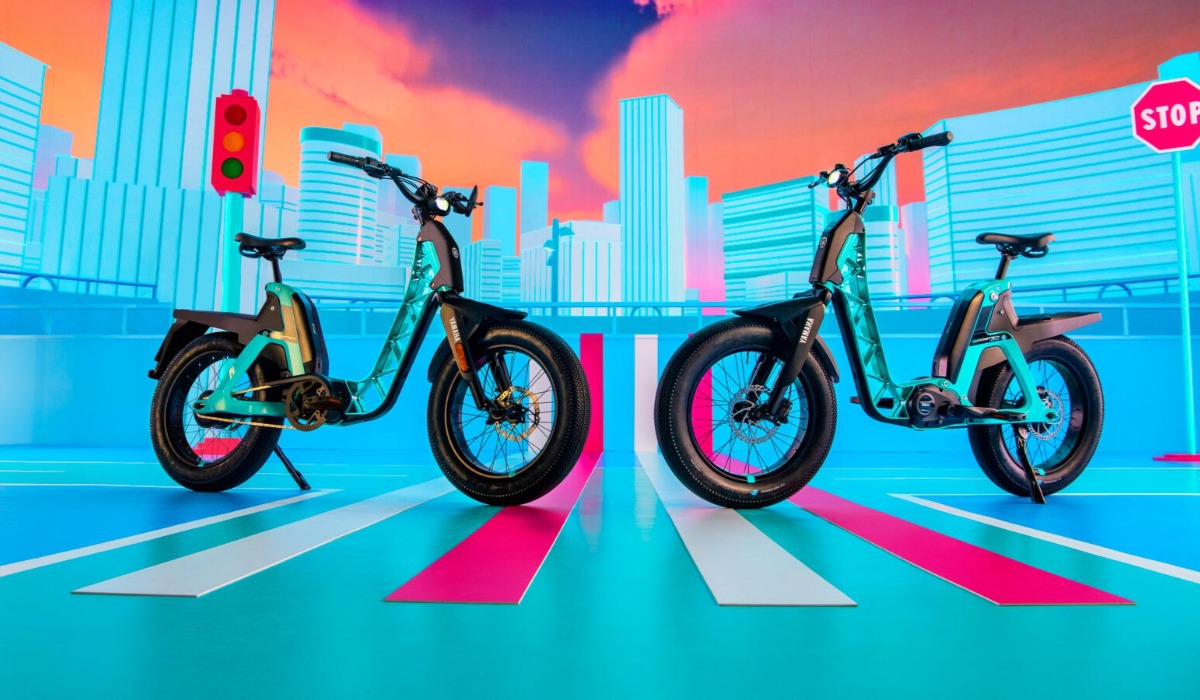 Yamaha launches two new electric Urban Mobility models
Yamaha launches two new electric Urban Mobility models
BOOSTER Easy eBike and BOOSTER S-pedelec, available in spring 2023
The Yamaha's diverse range of class-leading Urban Mobility models is further expanded with the launch of two new electric models, the BOOSTER Easy eBike and the BOOSTER S-pedelec electric.
Following the company's recent announcements regarding the new NEO's electric scooter as well as the introduction of the Moro 07, Wabash and Crosscore eBikes, the launch of these innovative and stylish new BOOSTER models underlines Yamaha's ongoing commitment towards establishing itself as one of the major brands in the European 2-wheel EV market.
Initiated at the beginning of 2022, Yamaha's Switch ON strategy represents the beginning of an exciting new era in the design and production of the next generation of electric vehicles. Many commuters are now actively seeking zero emission personal transportation, and the growing range of electric Yamaha models offers a clean, reliable and efficient solution for commuting, leisure and sporting applications.
Created with Yamaha's 30 years of EV experience
Yamaha introduced the world's first production eBike in 1993, and now, 30 years later, the premium Japanese brand is at the forefront of the development, design and manufacture of zero emission 2-wheel electric scooters, eBikes and pedelecs. Yamaha is also a key manufacturer of drive units that power many brands of eBikes produced by other manufacturers. At the same time as being a major producer of zero emission vehicles that help to contribute towards a cleaner environment, Yamaha has also accelerated its programme to become a carbon neutral manufacturer by 2035.
New BOOSTER Easy and BOOSTER
Yamaha's new BOOSTER Easy eBike and BOOSTER S-pedelec electric have been developed in Europe to meet the rapidly increasing demand for clean, quiet and accessible urban transport. A few decades ago, Yamaha's legendary BW's scooter – along with the best-selling MBK Booster – captured the imagination of a generation of younger riders who were looking for fun and freedom on two wheels. Powered by a class-leading Yamaha drive unit and featuring a rugged and timeless chassis design, the new electric BOOSTER models are designed to offer the today's urban dwellers an easy, enjoyable and affordable way to move around their towns and cities with zero emissions.
BOOSTER Easy and BOOSTER: What's the difference?
Yamaha's new BOOSTER Easy and BOOSTER look virtually identical and are technically very similar, sharing the same lightweight chassis design. The difference is in their performance: BOOSTER Easy is an eBike with a maximum pedal assisted speed of 25km/h, while the BOOSTER is an AM licence S-pedelec or electric moped that can power to a maximum pedal assisted speed of 45km/h.
Contemporary and minimalistic design
Fun to ride, simple to maintain and accessible to an extremely wide and diverse range of customers of all ages and backgrounds, the BOOSTER models are the spiritual successors to the original 'fat tyre' 50cc Yamaha and MBK scooters that played a big part in the lives of thousands of European teenagers growing up in the 1980s and 90s.
The contemporary and minimalist design features an exposed diecast aluminium front frame as well as spoked wheels with fat 20" x 4" tyres, and a classic U-frame configuration that makes getting on and off so easy. Driven by an ultra-compact and lightweight Yamaha PW-S2 drive unit that delivers seamless power, the new BOOSTER models are ready to make every part of the metropolis easily accessible to the new generation of riders who live, work and play in the city.
Exclusive Yamaha body components
The BOOSTER models benefit from a range of exclusive chassis components that add extra fun and functionality to the look and feel of these new zero emission vehicles. The front end of the bike features Yamaha-exclusive fork covers, a front plate cover and front mudguard as well as a Supernova headlight to give a sleek and coordinated look.
Cables are hidden away behind ducts for cleaner lines, and a chain cover and engine covers underline the BOOSTERS' high quality of finish. The rear carrier provides plenty of carrying space, and both models feature an adjustable Royal Orbis seat and Integrated Koso LED taillight.
Comfortable and agile, perfect for urban mobility
The BOOSTER models represent the next generation in urban mobility and are amongst the most accessible powered two wheel models available today. Riding comfort is assured on uneven road surfaces thanks to the fat 20" x 4" tyres that offer excellent grip on different road surfaces. The adjustable seat height enables riders of varying sizes to find their ideal riding position – and, together with the shock absorbing high-profile tyres, the smooth front suspension soaks up the bumps. As well as offering easy ingress, the strong and simple U-frame design with its unique diecast aluminium front section ensures a low centre of gravity for Easy agility, making this zero emission 2-wheeler the smarter way to move.
Smooth and reliable Yamaha power
Yamaha has 30 years worth of experience in the design and manufacture of high-tech eBike drive units, and the BOOSTER models are equipped with the very latest PWseries S2 motor that is one of the most sophisticated designs in the class. Developed with the philosophy that 'less is more' the quiet-running PWseries S2 drive unit is extremely light and compact, weighing just 2.85 kg.
Producing 75Nm, the PWseries S2 has one of the highest torque-to-weight ratios in its class, giving the BOOSTER smooth and natural acceleration. In addition to its seamless power delivery, this reliable high-tech design also benefits from a number of class leading electronic control technologies that deliver an enjoyable and refined riding experience. Yamaha's Zero Cadence technology provides instant assistance as soon as pedalling input is sensed, and the Automatic Support Mode provides additional power assistance when necessary – such as on hills or into headwinds – to ensure an easier and enjoyable riding experience.
Riders can also select the Zero Mode that completely disengages the drive unit and solely uses pedal power – and the Walk Assist Mode makes pushing the vehicle easy in situations such as pedestrian only zones where riding is not permitted.
630 Wh 36V Yamaha battery
Both the BOOSTER Easy and BOOSTER are equipped with a 630Wh 36V battery that provides the PWseries S2 drive unit with an instant and reliable supply of power. The quickly detachable unit is located centrally for easy access as well as centralising mass for agile and responsive handling – and battery charging can be carried out both in-situ and remotely if the unit is removed.
Performance and range
BOOSTER Easy has a top assisted speed of 25km/h to comply with European eBike legislation – and riders can select the Zero mode for faster pedal-only riding on downhills. Five modes are available – +ECO, ECO, STD, HIGH and AUTO, enabling the rider to choose the appropriate setting to suit the local terrain and their individual range requirements.
The torque ratio supplied by the Yamaha drive unit is set at 50% for +ECO mode and goes up to 280% in HIGH mode, and the typical range with a 75 kg rider is up to 120 km in +ECO mode through to 60 km in HIGH mode.
BOOSTER is being classed as an electric moped (L1e) riders requires an AM licence and the appropriate insurance. The +ECO, ECO, STD, HIGH and AUTO modes can be selected by the rider to match the conditions, and a range of 110 km(+ECO mode) up to 50km (HIGH mode) can be achieved with a 75kg rider.
The torque ratio supplied by the Yamaha drive unit starts at 60% in +ECO mode and increases to 400% in HIGH mode, giving this electric moped a drive unit assistance reducing at 40km/h and stopping before 45km/h.
Intuitive user interfaces
BOOSTER is equipped with the latest centrally located Yamaha Display C user interface featuring a large 2.8″ full colour dot matrix TFT display and a separate control switch. Information displayed includes battery capacity, riding speed, assist mode, range, clock, trip distances, cadence, calorie consumption and time. A range of fitness and navigation apps can be accessed by connecting a Smartphone via Bluetooth® to enhance the overall riding experience.
BOOSTER Easy features Yamaha's simple to read Display A interface that's equipped with a 1.7″ LCD screen. Its basic design features integral buttons, and 'always on' information includes speedometer, battery capacity indicator and assist mode, as well as selectable trip meter, odometer and range.
Model overview
BOOSTER Easy
eBike category, limited speed 25km/h
Range 60km-120km depending on running mode, with fully charged battery
Comfortable, agile and lightweight urban transport
Contemporary and minimalist design
Aluminium diecast front frame
Adjustable seat height
Fat 20 inch x 4 inch high profile tyres for excellent traction and shock absorption
Low centre of gravity for easy agility and confident stability
Designed to handle uneven road surfaces
Promax 180mm diameter front and rear disc brakes
Premium Yamaha PW-S2 drive unit
Yamaha 630 Wh 36 volt battery
Display A multi-function LCD interface
Yamaha charger
Rear carrier
Yamaha exclusive bodywork
Royal Orbis seat
Supernova M99 Mini Pure headlight/Koso LED taillight
Genuine Accessory baskets, side bags, inner bags, frame side covers, premium pedals, bar mount.
Exclusive BOOSTER S-pedelec features
BOOSTER S-pedelec electric moped, AM licence category, limited speed 45 km/h
Range 50 km-110km depending on running mode, with fully charged battery
Premium Yamaha PW-S2 45 drive unit
Yamaha WVTA (L1e-B) 630Wh 36V battery
Display C multi-function full colour TFT interface
Licence plate holder
Left hand mirror
Left handlebar horn and meter controls
Colours
BOOSTER Easy
BOOSTER
Genuine Yamaha Accessories
BOOSTER riders can personalise their eBike with a selection of Genuine Yamaha Accessories, including a full and wide range of new dedicated products: front and rear baskets fully modulable and easy to mount, new inner bags usable for your daily routine and side bags to extend your carrying capacity, premium pedals and a smartphone bar mount system. And to make their own BOOSTER stand out, riders can fit a choice of different coloured side covers to the diecast front frame.
Omnichannel: a seamless buying experience for Yamaha BOOSTER customers
To ensure that every customer experiences the highest levels of satisfaction from their initial enquiry right through to the purchase and delivery of their new BOOSTER Easy and BOOSTER, Yamaha has developed an Omnichannel distribution system that delivers a seamless buying experience from start to finish.
The heart of the system is a new e-commerce platform working in partnership with the new network of eBike Experience Centres operating within Yamaha's existing European PTW network. The key advantage of the Omnichannel system is that customers can visit a Yamaha eBike Experience Centre to see and feel the eBike, take a test ride and seek advice from the fully trained dealer personnel before placing their order with confidence.
Once they have chosen their new BOOSTER the customer can go online to confirm their purchase and arrange home delivery (only for BOOSTER Easy) or pick up at the dealer. This new industry-leading system is designed to offer customers the best combination of on site and online services – and Omnichannel removes the uncertainty that is sometimes associated with a purely virtual sales experience where there is no physical element or human interaction.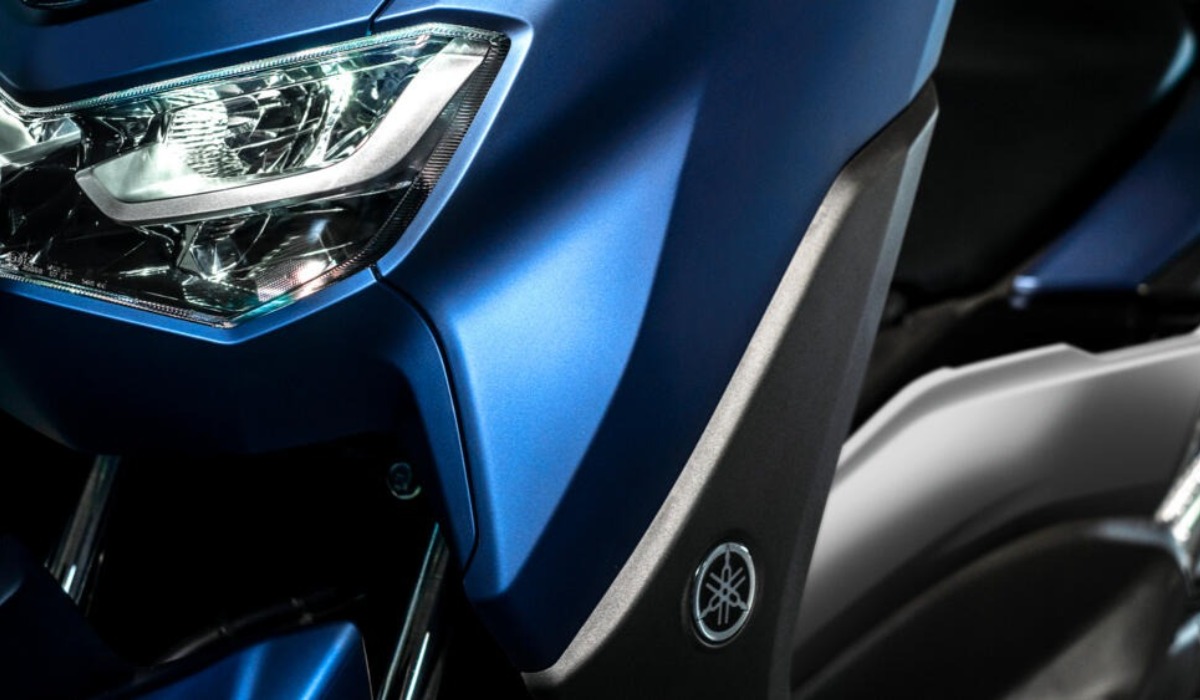 Yamaha Motor Adopts Newly Developed Eco-Friendly Recycled Polypropylene as a Raw Material
Steps towards employing more carbon-neutral raw materials beginning with ASEAN market commuter models.
Yamaha Motor announced today that it has succeeded in developing a high-quality and environmentally friendly recycled polypropylene (PP) material which can be used for the main exterior bodywork for motorcycles. The Company will begin using the new raw material with the main 2023 commuter models for ASEAN markets.
This eco-friendly recycled PP material is made only from pre-consumer materials* with a traceable manufacturing history and no risk of containing environmentally hazardous substances, such as purging compounds** and scraps, generated in the production processes of petrochemical and molding manufacturers.
Resin materials are often used for the exterior bodywork of motorcycles, and PP materials account for about half of these parts, making it a major raw material for the Company. Yamaha Motor has been driving the development and the use of recycled PP in its products for some time now, but this newly developed material oers even higher levels of strength and quality looks compared to conventional recycled materials. It can also be used for areas requiring greater aesthetic appeal.
With the use of this eco-friendly recycled PP going forward, Yamaha Motor plans to raise the usage ratio of such recycled materials in motorcycles and gradually adopt the material in other product categories as well.
In line with the Yamaha Motor Group Environmental Plan 2050, Yamaha Motor is aiming to achieve carbon neutrality*** throughout all of its business activities—including its entire supply chain—by 2050. To realize this, the Company has set a goal of switching to 100% sustainable materials by 2050, and will expand its eorts to adopt green and other recycled materials for its products.
* Raw materials, which have not reached customers, and are supplied especially for their use in recycled nal materials
** Intermediary materials produced during resin synthesis
*** Emissions as a direct result of business activities (Scope 1 and 2) and emissions outside of these (Scope 3)
<img src="data:image/jpeg;base64,/9j/4AAQSkZJRgABAQAAAQABAAD/4gHYSUNDX1BST0ZJTEUAAQEAAAHIAAAAAAQwAABtbnRyUkdCIFhZWiAH4AABAAEAAAAAAABhY3NwAAAAAAAAAAAAAAAAAAAAAAAAAAAAAAAAAAAAAQAA9tYAAQAAAADTLQAAAAAAAAAAAAAAAAAAAAAAAAAAAAAAAAAAAAAAAAAAAAAAAAAAAAAAAAAAAAAAAAAAAAlkZXNjAAAA8AAAACRyWFlaAAABFAAAABRnWFlaAAABKAAAABRiWFlaAAABPAAAABR3dHB0AAABUAAAABRyVFJDAAABZAAAAChnVFJDAAABZAAAAChiVFJDAAABZAAAAChjcHJ0AAABjAAAADxtbHVjAAAAAAAAAAEAAAAMZW5VUwAAAAgAAAAcAHMAUgBHAEJYWVogAAAAAAAAb6IAADj1AAADkFhZWiAAAAAAAABimQAAt4UAABjaWFlaIAAAAAAAACSgAAAPhAAAts9YWVogAAAAAAAA9tYAAQAAAADTLXBhcmEAAAAAAAQAAAACZmYAAPKnAAANWQAAE9AAAApbAAAAAAAAAABtbHVjAAAAAAAAAAEAAAAMZW5VUwAAACAAAAAcAEcAbwBvAGcAbABlACAASQBuAGMALgAgADIAMAAxADb/2wBDAAMCAgICAgMCAgIDAwMDBAYEBAQEBAgGBgUGCQgKCgkICQkKDA8MCgsOCwkJDRENDg8QEBEQCgwSExIQEw8QEBD/2wBDAQMDAwQDBAgEBAgQCwkLEBAQEBAQEBAQEBAQEBAQEBAQEBAQEBAQEBAQEBAQEBAQEBAQEBAQEBAQEBAQEBAQEBD/wAARCAG4AyADASIAAhEBAxEB/8QAHgABAAEEAwEBAAAAAAAAAAAAAAYBBQcIAgQJAwr/xABiEAABAwQBAgMEBAkFCQsICAcBAgMEAAUGEQcSIQgTMRQiQVEVMmFxCSNCUoGRlKHRFhdi0tMYJDNVcpOVscFFRlNUVoSSorLw8TQ1Q0SDhbPhJTZjZHN0dYImOGV2o7TC/8QAGwEBAAMBAQEBAAAAAAAAAAAAAAECAwQFBgf/xAAsEQEAAgEDBAIABAcBAAAAAAAAAQIDBBESBRMhMQZBIiNRcQcUMmGBocEV/9oADAMBAAIRAxEAPwD1TpSlApSlApSlApSlApSlApSlApSlApSlApSlApSlApSlApSlApSlApSlApSlApSlApSlApSlApSlApSlApSlApSlApSlApSlApSlApSlApSlApSlApSlApSlApSlApSlApSlApSlApSlApSlApSlApSlApSlApSlApSlApSlApSlApSlApSlApSlApSlApSlApSlApSlApSlApSlApSlApSlApSlApSlApSuhfb7ZcYs03IsiusS2Wu3MLky5kt5LLMdpI2pa1qISlIHcknQoO/SsZ434mvDvmN6iY3inOGC3i7XBzyokGFf4rz769E9KG0rKlHQJ0B8KyZQKUpQKUpQKVAOROcePuLcmw3EMvuMiPdM9uX0VY2Woy3fPkAoBBUkEIA8xGyogd6nwOxugrSlKBSlKBSoJl3NeAYRyLiHFeQXJ9nIs5MoWaOmMtaXvZ2w46VLA6UAJI+sRvfavnxVzlx1zPKyqHgV1fmO4beHbHdQ7FcZ8uU2SFBPWB1DYPcdu33UE/pSqFQHrQVpVjk5rjEbHbllgu8eRarSxIkS5MZYeS2llJU79TZJSEnsO9Wbh/l/COc8AtvJnHk5+ZYrqp5Md16OtlZU06ptYKFgKGlIV8O/qO1BNaUpQKUqN8i8h4fxRhd15Bz29M2mxWZgyJcp3ekJ9AAB3UpSiEpSASpSgACSBQSSlY24U5+wTnyxy8iwNq9JhRHG2yu5Wt6F5gWjrQtsOpT1pKde8nY71OYV+tFyXKbgXBiS5BdLElDTgWplwAEoUB3SrRB0e/eguFKgHDnOPHvPFiuWS8b3N+fbrXdpFlfedjLZ/vplKFLCQsAkacT72tGp/QKUpQKUpQKUrDfMXiz4Z4PyS14ZmV3uD+QXeOuXHtVqtz0+UI6TourbZSooRsKAJ1voVrfSdBmSlda3z2Llb49zjpcDMlpLyA4goUEqGxtJ7g6Poe4qE8Vc5cdczysqh4FdX5juG3h2x3UOxXGfLlNkhQT1gdQ2D3Hbt91BP6UpQKVasryaz4XjF2y/IJCmLXZIL9xmupQVlthltTjiglIJVpKSdAEn4VjazeKnhy/TuNrbbb5LXI5YjyJWMIVBdT7S0wjrcUslOm9DXZWjs6oMvUpSgUpSgUpSgUritXQkq0Tr4CoPxBzTgHOdguOTcdXN6dbrXdpFlkOuxnGSJTAQXEgLAJA609/Q0E6pSoFylzfx9w7KxeHnNzfivZjemLBaEtRnHfOmPEBCCUghA7j3laFBPaVRKuob1qq0ClfGVJahx3ZTxIbaQVrI+CQNn9wqF8Nc0YFz3hLHIfG1xfn2OS+/HZkOx1sFa2llC/cWAoDY+I70E6pSlApSlApSlApUH5H5mwPiq7YjY8xuT0aZnN5asNlbbjrc8+Y4QEpJSCED3h7ytCpuDsAj40FaUpQKUpQKUpQKV0ZV7tMKZGt8y4R2JU1SkxmXHEpW8UjaghJO1aHc69K7qSFDY9KCtKVjnkPn7jTi7N8L48zC6yI17z6Y5BsjLcRxxLzqCgKClpBSgbcQPeI+t9h0GRqVRJChsVBbVzXgF55fu3BkC5Pry6x2lu9TopjLCG4q1IShXmEdCiS4nsCT3oJ3SlKBSlKBSlKBSlKBSlKBSlKBSlKBSlKBSlKBSlKBSlKBSlKBSlKBWGvGX/8Ayoctf/2jc/8A4CqzLUc5HwOzcoYFkHHWROymrXkluftkxcVYQ8ll1BSooUQQFaJ0SD91BpV4CbFl8rC+MpF48HeEWmxosDTzHIrVytztyeUGCWpBYDPnpW4dA7WSNkkmovL8RPibheJxzwUDmuzKmSslROZzpcaH7axZyx7Qbb5AZDHtfSAkEo3s+miCNhsB8BuH8bTbG/jPPHNyIWPPMOw7S9mJVbulpQKWVRg0EKa7aKNaIJFfRz8H9wS7gzuHvO5Cu4PZJ/KxeU+1tC+m59fV5wkhrQHcjp6OnuTrfeg1t8Y3i75dw7krLmeAuWMxnM8eRYhv1qt+BxJ1mgP70sT7itYdZCwlR/FtkAgpCgd9MmzzxE+IblblLw78b8Z8ns8btcu4L/Ke4TY9jj3JcaR7G5JKEof7KR+K6OxB0onvoA5o5I/B+cK8l5Nesqm5BnFjlZU0y3kzNivfsca/qb3pyYyEFDijsk9ISnZJABJNS+H4R+KLbyFxtyRbTd4tw4psSscx6MiUlUYQzHcY08FJK1qCHVaIWO+id0GgsHxf+MW2cITvE1ceYLbcoWF50nCbjiwxyO0xdG0NtqVLVJH41K1F0J6UBKRrf9E515D5M8TnI/jBzfhXivnSNgNnxDDo2TRW3bBFnIluKQwS0+t0dbaCp7utJPSB2SfWsrP/AIP3hBzhm/8ABi7nlRxvI8nOWTFe3Ne0+2kIBShflaDf4tPu9JPr73esW5j4Jcm5Z8ZOd5xmUrKrBx9eMSh2uHd8fyBuFJmPIRHQ7EeQgqWplSUudSVoCVFKdH5hh24c63/xFy/BTyjlkGPEvMrPbhDnCMCll11iRHb8xAJJAUADrZ0dj0Aru8teMPxe5VzTyPYuDbXmotvHl6XZ4FtxzBGr3EnutKKV/SMpbgcjhakEp8lBPQr5jqO5WV+CrgTKePsR42GPS7NbMDkJl46/aJq40u3v9QUpxD3clSlAKUVb2r3vXRrp5/4IuI83z6dyXar7m2DX686+m38Pv7trTd9entKUghR9dlPST1EnZO6Ds5JzbebH4RHOZuSZcrja9qxhqTcFvWtT7touTyUtpHsq9KXp9aQG1aJ2kEjuRrN4RfFN4h734hjxJyjecvvVkvmJv5Da5WXYZGx+elSFDocZajuLS7GUkK0vZJO9AdPfd3NOHsF5C4xk8QZja13PGJcFm3vRn33CtbTRSWyXN9fWlTaFdW97SDWLeLvBPxpw/l/849qyvPMnyOHZnLJbpOS35U4woit/iWAUpCEj4DuB31rZNBp7hfin8WuOcE4h4vMp5nhZPj99ysWK44W/jkVgNMGStorjyWdOLc02SEqGhvv1a75O5E5Q8U2YeIXnjHeN+d42HWThy0W67w7S9j0WWzcvNgiQ40884A42CpKh1JJ7KGh8a7Hg9/B4WzHeO8PufiDi5Kcixu6Sbm3iruQiTY2JQfWqPLTHZUpvzegpOwvR9FA9xXfn+Bu6cs+KnmrNeTpeV2PCsqZszVresWQoii8MtRENSY0plBUpTO0gdLiU9u6TQQOHy7cOeed/BByvfLe3Cn5Db8nXMZbBS2H2mvKWUAnYQpTZUkb9CK7LHiw5A4l4r8UvIMZm2zrljfLM2wWMfRTDDLAcfSyh2T5CEKe6U+rjhUtRSkFRra7MPCHwtl1uwG3t2mfYDxk62vGJFknLivwW0lHUyHO5UhYbSFdW1HvpQJJPOy+Enh61WPknF7hbZt7s3K18k3/IYNxfCm1SHlhag0W0oU2kKAKfeKkkAhWwKDHjT3M/BPDmacq89+LNu8wnbCl6HKaxKM01YpjukoW0ln3pY8x1tKUqA6u3z7YN8KHim8Ql/wDEZD4h5Lv2XX3HcqxaTe7ZLyzDY2PTdoSpSHY6I7i0ux1JSQFkklR/J6e+yeL+BniTH8dv2GXjJs9y7Gr/AG0WhdkyTJHpkKFFS6262iK37vklCmmylQPUOkaNfTiPwRcW8QcgweTbflmeZHfLRbV2i1uZJfVTkW+EoEeQwnpT0oAJATsgfACg1V/Bv4tyxavDHcOSYHNLiMShsZClnDFWCKttuYgKIk+1nbpPUOryynp+B7Vy448SPN0vwveG/DMLyOz4/lnL19u9neyU2WMhi2R4s15ALMRpCGA4UqbCQUdJKDsbUVDa7C/BTxTx5lF9v+G3/NLZbr+iaHsaavrn0Ky5Lb8t55qIR0hzp3oqKgO2h2AHyT4GuDTwVj/AMli9v2bFJT0+yXQzQ3dbfKcfceL7MhtKQlYU6rXu60E7BKQaDXV/xUeITjOxeJLifLM5g5VlnD9nhXSzZc3aWo/npkhs9MiOjbQWkPJ0APyVA713uXCfN/iRw3m/g7EOVOXmOQrDzpizl8S07YY1uesr6YXtIbbUx/hU90pKl9z3Ok6758s3gi4WsnFuZ8XMLyGSnkFIGSX+bcfabzcVBRUhTkhxJBKdkD3daJOiSSb0z4U+N2cw4qzdM69m4cPWhdkx5Jkt+UuOqMI5MgdG1r6B6pKBv4fCgxp4mOV+Zrj4hePvDBw5nEbA5GVWiZfbhkztqauDzbTBUEsx2XSG1K/FLKt/BSSCNd9Vee+duRuU/BNzlx3ylco94yHjDOoOOPX6JFEZm6spmpSh0tp91LhLSyoJ0nSkdhXoFzl4Z+Oufk2eXlci92m+Y68p6z3+wXBUG5QCrXWGnkg6CgACCD23rR71Frh4HODZnA0zw7xY14gY1c5zV0uMpiYFXCdNQtCzIefcSrqWstp6j0gaGkhI0AEz4JwPk7j/ABN+0cncwu8izHZAeh3BdijWr2WN5aEpjhuOSlYBSpXUdH39egFaieCHCOULtzXzdlmP8zvWPFLVy5fkXfE02OPITd1lavfMpZ81n6yBpII/F/aa9BmmQ0wlgEkISEAn7BqsIwPCBxnZeZpvNuNX7MLHcrtN+krtaLdfHWbRc5Z6tvyYw7OKPUSQT07769dh5s8J8l87+HTw6ZB4hcE5NZXi1r5Sk2y44RJszCmpnmeV5j3th28gqT0JCUgAa6tnuk7AeKXxZ+JF/wARF84U4OazOBExOzRJzzuJYYxkM6XJfaS6kPofcSliPpxKepIUrqSfXehsE74AeE3uELxwEu7ZX/Ju95GrKJLonM+1iYQgEJX5PSEe4nt079e9SHljwdcV8s5TCz9+6ZViWXw4wgnIsTu67ZcJEUDQZdWkELT6d+nq0AN6GqDp8Ic18qXPwsu8t82YBNsOX2K2XOXdLS/DchLe9kDikrS24OpHmIQk9x6k62NVpfw14wvHPmWSYbyIziGfZTjeR3Zpm72ljjxLViiW9b3Qp2FcmnFvuLQkb/GAJB6t71XpXiPH9kw7CIeARH51ytkSMuKpV2kqmvyUL2Vl5xzZcKipW9+u9enasO4L4G+JeNMzj5TgmT5/ZbXEn/SbOKRcmfRYUSex6/Zfyu4B0pRHYDWu1BjC3Z34mfErzvyniPGnN9v4txviq8s2RuO1jrF0mXR3pPmOP+eoBDZU2rpKNHpOtEjZ62bcoeJfl/xD8lcP8Scw2jja28RWaFMfkv2dia7fJb7PmjzPO7MsAe6pSASnQPfrATmHkbwU8U8g53J5Lg3/ADXCckuaA3dp2IX521ruqBrpTJCNhYGh6BJPxJ0NU5d8EnDnMeQM5ZdpmUWC9Ktws9yn49d1wXrxBACfZ5pAIeQUp0dgEjQJ0EgBhrjzx78vXrg3j/kFrwzZnyBcskiTfpJ/Erc67FjPxpK2NHSVdJWEhet/MDYqCZdiXJ/KH4Su7x+NuVJPGF8RxbDnuzTYo9zeDJfYC4pakEJQSp1JKx3Hlka0o16AYFgeJ8Y4hbMDwaysWmx2dnyIcRgHpbTsk9ySSSolRJJJJJPc1E7f4fsJtvPtx8RzEq6Kym54+nG3mlvIMMREuNuApb6OoL6mk9+sjRPag1rtma+JXmHxmcm8S4vzuMIxbjH6Gf8AYI+NxJpubUhltx5tbrp62ySV6UknQUO3bZgTniy5E4g4l8UvIMNq2z7tjnLM3H7EhNqYZba63ktIcf8AIQgvqSgb63CpailIKq3Rw/w/YPhHMOcc3WaTdFZByA3Dbuzb76FRkiM2lDflICApJ0kE7UrvvWqsVo8IvDVvsXJWL3S1S77Z+Vr9IyLIIVyeCmzKeWFqDJbCFNpCgCnuVJIBCqDWrwm88+MC78uM4zynjfI93wu82iRLXe8pwBuwi2TENFxCG1x1rbcYV09IKz1qUtOgNd8b8e+JvxcW/irjHxRZRzdDv9gzTPGsSuGHO43FjtsMuPvNl1qU3pwq6WDrq0AVDfVqt1uG/CVhXCVzfuOPZ9yHeG1QFWyJBv2RuzYdviq6fxcdkgIQB0JA2CQBrfruzxfAzw7D4cxTg5m45J/J3Dslbyq3rVLZMlUxDjjgDi/K6S3t5Y0Eg6137UGu3NPJ3PnPGX+JXCcT5Uj4NhfD+OSGJVnNhZmP39LkB9T6XHXCFsoPlOBK2/QLQdGoVxh72a/g/wABwp6sav46hrsfZho9/t1W43MPgl4g5kyyfnM+6ZdjF9vUIW29zMYvS4BvEMICAxLTpSHUdKQnXSNgAHYAFdnIvBrwzdsZ4/scSBeLc5xWpLmLzLbclx5kdKSlSmi93KkOdCQrffW9FOzsNQb34w/EThfG3I/Bdwzhd251t3JcPD8cuAt0Rt12FLUFx5AYDYaKVNsujZQdecjfzrYXxk8mczca43xBhXHnIAst9znL7bidxyFdrYlOIDrZC30srAb6iodXToD1A12qGcb+GnlHlbxhM+K7njimx8f/AMmreiHbbPCvDVyeuc5CVIbnPOtAJ0lCyEggKBbbGj07rZ3ljgnDOZZ2GXHK5NzaewXIY2TWz2J5DYVMY30B3qSrqR37gaP20Gn3iX508TnBl2448O1i5ByTL8rv8GfdrtlVgwiLMuz7KHVeS3Gt3mJY90JUHCVH3QFDR7HrQ/GT4pcC8KWVZXyfx9drbm1vyWDj2P3XKMfXakTY0o6TKkRwelK0BDnV0K6ApbY7997cc5eGbjLxAM2l3M27rBvGPul+zXyyzlwrjblkgqLLqd630jsQR8Ro96+Nt8LvGbfEdx4Wyx/IM2x+7vKkT3couz0+Y+4ejSvPJCkFPloKejp6SNjvQYW5Lxbxm8T+HbkTMWPE29muVwbZFu9q9nxSBEEJMdzzJraB0rD6VsdQHUkKBR27nVRrBfGDmvOHPGJSuPcoXGwPGuMDm2cWiNEZfcfnutK6IPmFBWhxClNqAQRsJUO+6yjE4Hvvhjwu8T+DoObctXaYyxbI+O5bmqREjQQdKDKnk+W0lKe3TragNelW7wBeEmZ4aON707mES1tZbmU0T7mzA24zCjpBDEJLhJ6w31OEkHW1kbVoKIWDwlZB4nPEJasb8SGT89wLdid6lzHDgVvx2OtkRm3HGUIVNUfOS51oCjrY9PTeq124i8QOXeHLwKZ5mWBQWpWQXHl642SCpxkvJYcf8olzytjrIQ2oJTsDrUnexsHc/D/BBxNx5nrWa4Dkmd47BbuH0qcWt2RPN2FyV8XFxO/VsgHpKunsAAANV2IXge8PkKz55i/8m5sjHuRJrVyullfnOKhx5iCs+0RU7CmHFKXskK/JSBpI6aDXHw/eJbxeWO+5kjlzC+RL9iFsxC45FDveV4IjHn2p0Vku+y6jqWyppaUqCSVdZUfs1WGc5vHO/Jdl8MHOvLfMMLILfm/Jtolwcah2RiMxZVCVodElJ8x3aEaUlYPSfyjrv6E8PeFjDuG1XAQM4z3KWJ8D6LTFyrIHLlHiw9jbLLSglCEkAJ9CdDW9b3BrZ+Dr4Bs2X2XJrdPzRq3Y5eEX+04z9PurssGclYWHmo6gSk9Q2ff79we3agsnjP5N5qsvMXCHDXD/ACanBhyTNukafdUWiPcHWvIQwpspbfHSR76wRsHuO/bvie6+NvnTh/iDne05nNtGYZnxLfrbYLdkDEHyGJgnFQQ8+yg9IW2G1FSU9I6lJT/SOWfGT4a87565t4Mu9gYusfG8XlXY5BeLRd27fPtjb6I/lOsLKg519TR7thRHT3GjWTMK8HXBeHcW5DxMcbkX6z5i8qXkb97lrlTbtIUrq859/YPmA6KVI6SFDqHvEqIYNw7knxG8V+IPEuEOYeXbZyZa+S8UuN4Yls2Zm3vWqRHjrdU2nyey2CEFKVqHUonfu60deeBOVOVuDfAdxDy9geRLi4zY+QJMfNoAisuiVan5vSVFTiCpvpUno9wpO3ge+q3v4a8GXEPCmTO5naZWS5JffYBaYlwya6quDsC3gaESPsBLbQHbWidEjeiRWIuXPDJeuL+Isr4X8MHDScssnJ7shN0jXvJ0M2/GnFpSGpEaO6NqCVkuaQesKabOzoABCMw8VvO86B4puXcHzFtvB+ODDx7EEGDHdYVckusomSEr6OtwgbIClFGn06B1Xf4q528SfHHKXBWO8p8rwuSbDztYlXNKFWOPb5lkfERt8JQWPddb26hPUobPvHSenvLr94PcgwX8HpevDPxxBj3zLbhb0LkqbfQyifcVyWnXlBx4oSEgJ6UlRHutp7b7VLPDL4JsF4pRifIuULyS7Z5a8ciW5CL5eVXBiwrMcJkR4KfqtN9SnEgAqASSEnROwwz4dudPEplnE+feLfOOYxdMewxy/NpwNjH4rMeR7JG6miJidvJHWpJI0fq9zo6ro414gvFbg1r4Q5yzzl+wZZjfNN+g2mTiTNkZji0NzNqbXGfbPmuqQkaUHN9KtJO99Q3B4W8NnHPBnHt04wxlE252G9Tpc+azeFtyPOVJSlLragEJSWylIHSQexO91BcA8AvAfHecW3NrY3klxRj8l2Xjtkul4clWqwvOL61Lhx1f4NXUAdqUruAfUA0GsVz588XOS37xIcgYpztbLLZeCr1JaiY1Kx6K7FuUVpx/ba5B08hfQxoaJ6lkDafWp8PGNyNiHLHFvIfI1xTC4n5X40cuzcJbTKGbXe48b2p/TvR5qgUJSkBSiD52wPdq1ccfg952ccu83XvnpvKLTi+T5mbxabdackQ1Bv0H2l50CYwypRKR+KIC+haeo6IO9STxjeG/lbxFScR8O2I8U2Ow8aY3Mgy0Zo5dmi5FjNsKbciMQU/jU+6UpBO0KKE76ddQDCP8seYuScS8JXKHNeTfS1zyzmZu529v2RmOINtLqG2GdNoSFA+WpwKVtXS4kEnVXvnLxd+LC/8AO3I+F8GQM3Rb+OZyLdChYzgrN8auD4Ttf0i+44Fx0KWlXQWkE9Gz6jZ3S5P8LPEXLnHOP8Z3+0zLdbsQVGcx6TaZaoku0uMICGlx3E+hCUgdwodgdbAIj3IXgk4mz3Nl8jxMgzfD8klsIjXO44rkDtudurSAkJTJKQevQQO46SfiT20GDsy5t8UPI+a+Hri2yZfL4avvJOO3O4ZF52ONS5MSZDaUtSRHlD3ULLStAkEJcB2dd44rxxc24X4R+Qcnvki35ByDhXIbvHka6ot4S1KKS3qWuOggdfSXAEjpSVdHb1FbgTPDdgMzkjjzlN2ZeTeeMrZItNmC5YcacZeY8hZf60lbi+g9ldY79zurJZfBxwrbMLzzj6522dfrDyLf5GS3mLc5AVqY8UFRZU2lCmwC2gp7lQI9aDAng95v8W985lXhHLuKckXbC7na3ZTGQ5VgjePuwZyNKDX4hS2lMqSFAEq6yoj4DRvvik5R57k+LDi3w4cScrpwCDmtluE+VdG7JHuTyHY7ch0fi3+xBDAToEEdRPc9qzVwj4XcT4JnyJ9gz3kHIPNhi3x4+SZE7Pjwo4UkhDDRCUNj3EDeidDXpVyyfw6YLlvOGIeIC6zLsMmwmDKt9tbafQmIpt9t1tZdQUFSldL69EKT6DtQed0Dxf8AjEtnCE7xN3LmG2XGDhWcpwq5YsMbjtsXRtDbalylSAfMStZcCelASkev2VlXxo+KLlvFuSb7a+BOUM3MjCrCxcb7YrJgMW6wIK1I85LlwnPLSthpbSkkltK+kJUfXQGdnfwfnCLvDV/4LN0yoY5keTnLJi/bmfaRNIQCEL8rpDf4tPu9JPr3713+VfAtw/ytllyzSTfs2xm5X6Ci3X443fVwmr1HQgNoRLb0pLgCEhOgACN7BoNYOVL/AMh8/wDKfg2yvGM6/kFlmX4vebgL3GtjU1MN9cBpx0IjvK6FpUAtACj2DgO9ipH4qfEf4ieMeQ8C8MvHmQZVdb6nF0Xe/wCTY3h0a7Xe5OBS2wpm3rWhhtHUypThCjoODp1099js58GPDuc4LhOCuOZFY08ctIZxm7WW6ri3K3JCUJUEP6P1g2nq2D6dtGq5/wCDPiXkezYtGvlxyuPkGGxUw7Rl8G9Os39pob6gqZ3LnVtRJUCR1K6enqOw1JzLxceMHHfChaL3ltruWCZ1M5Dj4gi63jGxFkSrc7GW4iX7I8ChLvUnSukKRtKgPsnPMN35z4X5f8MeBZjzKznsrJ81uP0jdZeLW+K4uOBCbQ02kIWWFJDr48xpSVEOkE6ArOmS+CrjDL+L7DxVkmU5xc4FgyBvJmrjOvXtVxkTkJWkF595C+pOnD7oA9BrVS/lHw7YJy5nfH3IeUSbq3dONLi7dLMmI+hDS3nC0VB5KkKK0/iEdgUn170GgPiI8c3M+E8g5Pn/AAtyXl2TYTjGRN2qbBewOMnHI7iSEvRV3QrEgu9R933EghSdKI+tnzi2UiT+FF5Pkp0lD/GVscSD8NuRDqpVl34N7w+5ferxOdueb2qzZBcfpe64xbL+4xZpk0nqU+uMQffKtHsoa0OnpAArKczw0cZSea7Rz/FYuVvy+1QFWtb0OaptmfF8soS1JaOw4EAgp9DtKCd9KdBlUEEbB2KrXFCehITveq5UClKUClKUClKUClKUClKUClKUClKUClKUClKUClKUClKUClKUClKUClKUClKUCqdKfzR+qq0oFKUoFUIBGiN1WlBQJSnskAfdQJSDsJAPz1VaUCo3yJyFifFOF3XkHOLg5BsVkY9pnSW4zsgtNAgFXltJUsgdQ3oHQ2fQGpJUd5Cwyz8i4PfsCyFrzLZkNtk2yWkHRLTzakK0fgQFbB+BG6COQfEHxFcsuxHBYOXtPXvOrGcjsEZMd3U23hHX5oX09Kfd2QlRCiAe3Y1gHk3xK43yDmPB1+4j8RxxrHb9msixSYLmNy3BkrjLjCFxm1qYPQAtaW+tRQg+cpQWS3qtPrd4b/FvZeNJXKn8lcgXyHxDcIeFYdEahuF+RYm25jMh5hsDbyFKntqS4AR0MkjsKzXm/hhzTAo3grwzEMKvF0YwLI0XDJ5MOIt5uE+69DekPPrSCG0eb52irtpJ79qDLPF/4QTDMn5/zjgfPmE49dbTlX8mMZRHjypZuq0vOtKcccQ2W2NlKCAsge8e/Y6h3h38euCWnMeRcA8QnLqo9/Z5Ku1rsSJcB1Mdi2trQ2w2X22gyhPUlY24oH12TsV2uDLNyd4cvFRy7Z71wxmORWPlzLGLxacks0Zt63QmHXXi4qY4pafJ8vzu47qPQdJ0UlWMMk4P5VmeDrxM4eeMr+9fsg5XmXixQBbHFyZsZU6GpMhhPT1LQUIcIWntoK+2g3R8WvOk7w78B5HzBZbMzeZdlVDQzEdeLTbpfktM7KgCdAO9WgO+tbFaz+KjxzQb/wCFZHKnhy5EmwpcLKrZZrvLRanWVseayt11pKZTQKuwHvJB9NbrNPjC4mzbmPwbZDxviFvXKyWXbbY/HiOrDa3nI8iO8tsqWQAspbWO59dD41gPxUTuVvEj4RrLZrB4eORrHfLJk9lQ9a7laNSXg0y55r7TbZUosJUQOtQT6jt3oNuOFPFDwdz61c/5rc7ZuztmCVzWHYz8V5lCt9Ky2+hCygkEdQHTsa3VkxLxu+FzOs/Rxli/Ldsm3550sR0Bp5EeU7vXQzIUgMvKO+yULJPfXpWB8u4T5Fyjxw8sXO0Y9c7ZY8w4ckY7EyFcRxEBVxdEdCEl4DRWOnehsgIPyrBXAXhNusW/YHxxzDxr4j2L/h18Zmtyo16iPYZCW0+HRKjrUghAIAJQ3tWyoBW/QN8vFn4joXho4wObfRS7xeLnOZs1htaXOgzJ7oUUJJ76QAhaideg16kVZ+NX/HIcotEjlpPEDeMzSTOi2dU8XKGnoUQkKc206rqCUnWh3JHYaq1eO7w+5jz7xTaY3HDjCstwzIImTWmPIWENTHGgpCmSs9kkhZUCe20gHQOxh3Icw8QHiI5/4DuUbgDkzAo+CXSVMzBVzaEe1uJcEcaZfDgElCS05raQSFDSTs6C84t4gfGby/yzy3h3F1w4YtNn42yZ2xtnJIlxEh9AW55aupl4pUelv3jpPc9hWUvFT4g+QeAeGMck2WHYLzylldxtuPWqDpwwZNydI9oWhHWlwtDpX07UCCpAJrTQ8N4nbfEBzdfefPBJyvySzfsylzccuNis8lUdMUuuFSgpL7IWFkoIICuw9fnlbkzjznPxOeKfj254jYL/AMXYvxvibV6tV3yLHPaUM3SUhpSo5acWG1PtpW0ggLUULjrPcgGgzZw94psh5M8IeR83TbNEt+Z4faryi82spWGGLtb2XFlspKuoIV0tq6erqAX09Wxutf4Hjs8UOGcX8c+IPlCxcaXfBM/u7FrFvsQmRbvDS4t0eYQ8tbayEsOHpHqenZG9j5YLw3z5w1l3iW4qvNtvmZ2XkzCrnfoGQwrEuPClXxyK6HGENoK0NuuKeWnpCu/lN9veArGtj8IvIHE/Hvh98QNl4oyfKr7jk8HMsEuDD8haEqed6JTERYJaWhPcgDW/JV06CiQ2b8Y/jM5c4BySxY3gnEch22Tbtb7fKym9tq+j3FSR1JYjIbWlTjnQl3qKinoKO6VbBrLvPF68T1tmR3eEv5tbbZIltenXW8ZjLklDTiCdtBpnpIT0AK8wq0NKBA0CcWfhH8Azjkrijj+HgGIXm+zIef2u5yI8CG4+6xFSzI63FoSCUpSVJB2OxI9N1F/wiB5ozLJsM4msWBciXXi25IVPzORhFqVLny0pWQ3DCiUtoB6AVBR1pYJCunpUHG6+O7kuZ4Jsa8Q9jsmM2rJ7zk7OOOC5ea5a0kyFtLkDpWhYb6UdWyr3dHfVqtkfDvd+cr9ZZ155jyrjK/R5fkuWWVgvtRjqa0rzFOKfUrqJPT09PbsrfwrEbmX4Sjw9Y/am/Arn1zw60zzaW8On4xEcuENLTILc1MR1w+YlZcUkvBXWVeYonuSbf+D44azvje6cpZfdsHuOAYXmd2YmYph8+WXH7awjzQtbjWyGFLC2wU/W9zR2EpJDG3iB8U11Y8aF/wCGsn8QV74rxTFbbbUQE2SxG4O3W4SW2Xj5xDThQkJeCe+k+6Dve62i5F8aPhq4fzRPHXIfKUO3X4eWHo6Yz74i9YBT7Q40hSGNpUlX4wp7HfpWO+JsBza0fhCOdc/umKXWLjd8sNjYtl1diLTFluNRYyXEtuEdKilSVAgE6INYQ5B465p42v3iR48t/h/vmep57kvvY5kVtbaeiwzJStAamuLI9nQwXepJPbaCeyfeoNweWvF74eOEG7M5yNyJHhfyhiidbExIkicqVGPo8hMdCyUH87WvtroeI/xINcQ+GO6eIvDLY1kEVmFbp0BiQtyKmQ1MfZQhatp60+6+FdJSD8DqteONPD5yhxt4lPDHDutjuN0t2D8bzrRe70xHW5CiTFMyNMF7XSAFLCEbIJAT27itgPG9xHlPNnhezfjDBmWnr1co0Z6Ew44EB5ceUy/5QUohIKg0UjZA2Rvt3oMBc/8Ajoh5d4OLzyrwFnMqDkVlm2OJd3kWx5n2N2StPmtI9paAWNBY6khXYDv3rZjhLxVcEeIB6427i3PWbvOtDQemxXYj8V5tsnXmBD6EKUjZA6gCO47961K51f5b518C6uPbX4eORbJkWNvY5BVCuVr07PWwpAecjNtqWtbSAgErUlI0oa9DrI2W8UZ5f/HdkmQWiw3K24/fuGZOPpyFuGsRE3ByQAhBdA6S4lISoJJ3pAoMs4942/C3lXITXF+P8sWyXfpEj2SMlDLwjSXyekNNSSjyXVlR0EpWST2FR/x6eIPO/DNwZ/Obx/HtEi5/TUS2hq5srdj+U6Fkq6ULQeodA172vXYNaU8KeEK+RbjiPEPNHHXiPRdMcvzchibab7Fdw6Jp7rTNaK0ENHpUSpKOpe+rvtRA2o/Chcf51yf4YTi3HuIXbI7t/KG3yPYrZEXIeLaUu9S+lAJ6RsbPp3oMj8k+N7w2cLZEnCuTeRhbr+iOxJfhs2yXLUyl1AWgrLLSwgEEH3j6EbqUZ34neCuOuObXyxlXI1tjYve+g2yayFyPbuobAZbaCluHWyQlJI131Ws54qz6T4zOb8skYJeHMev3Ef0PBnqgrMWZLLEYGOheula9pWOkbPY9qxLx9wNzvjPh78NHILnEV0vVy4evt9n3zD5bPkXBceTNcU26yy7rrcQlKVoT6lSkEA99Bmnwk+K53ljlzxDZVfuR0SuM8VVa5lhfmtCIxAgLRJU6s9aErH+DT1eZ3HT8KzpxF4xPDhzjkknEOMeSItzvEdCnPY3Ij8Vx5CfrLZDyEeckfEo6hrv6VpbZfD7zbztYPFleGeNb9hKuV3bNJxqLkrKYMmSuI866404jqPR1DpT1E9PvjvoHUzwbDuW+buf+DMtlcBXriy08K2WRDvUu6MIjpmSFx/KTFghJ27HBSSF6ACXF9h26g2BtXj/8JV5zdjj2Dy3GN4kTPo9vzIEpuMqR1dIb9pU0GdlXYe/3JGvUVKOZfFn4f+AbjCs/KnIUe03Ge0JDMJqK/LkeSSQHVNsIWpCCUqAUoAbB79q88J/h95oc/B85tgw4lypWUSOWHLxCtYtLpmLilDSfaG2unq6NdY6gNdj3qfeJfw6chxfE/fOYrtjvMt7wrMLFEtyXeK7ohq6xHm2W23I0lhY6nGFFsq9Qnah6n3QG6GdeLjw7ccYLY+SMp5OtreP5KVC0SoaHJip3ToL8pthK1rCSQFEJ909jqsWcy8+2zL4/A2dcU8/N4rjWZ5oxBSl2xyXVZC2XQ0qIElkqYUVpUjbgbT75UVDpG8G8j+HLHMM8PXFNkxXiTxBtXCwPXS7WObj64su+45LkOIX5cptstoLbhPV7hBT0aJ2SDzyLA/FnnmA+Fm6cx4hcrrl1k5SiXe9uRICS5CtgkNrQ/MSynoaUE7KthOgB1aV1UG1ObeNzwy8a8iyOKs85IRZ8iiuNMyGZNuliOwpxtK0Bcjy/JTtK0nZWB3Fd/mTxjeHXgG+Q8Z5Sz8Wu5z4SbjHjMW6VMWuMpSkpd0w2vSSpChs/I1oH4tOJPE5yNlHK2M5ZinNeQyLpem1YGzjLrasRNrEkFv6QaH/pktge8feCwCo6G62axrjPPInjoxTL7zh9yVj8PhZiwzrmuKtyGJ6ZKiuMp3RQpeu+t7INBtVgfIGHcn4lAzrAr/FvViubZcizYyupDgCilQ+YIUkpIPcEEHuKwUx+Ea8Gci7v2ZPMkND0cOlTrtultx1FH1koeU0G1q7dkpUSr4bq3fg3sGzPjvwxRcXzrGLlYLmzfbq4mDPjLYdQyp8lBCFAEJI7jto+tahWbw/8zM+CDjTEHeJ8mTktp5nZu8qAu0u+1xrf0vFUhSCnqQ33RtXp3FB6FcUeKfgXm6xXvIeNM6Zu0bG2jIujZhvsSYrYSpXWph1CXekhKtHp0dEDdW/iDxkeHDnXJpGG8ZciNXK9R2VSDCegSYbjjaT7ymw+2jzAPiUb0O9a7ZHxlz7bfFH4lsy4exaXbbhkeD2xnGrtKihuFMuKGowWltxweSp0BLg79gr63bdYZ8NnDPN0/wAV3EPIuS4ZzeXsatM1rMbtnzvXGbmuQZCCi3rJ37KXXfdR3Pvb1rZoNt8v8dfBOVY/n2HcP8lKuGb2jGr1NgmNa5SmW5EWE691B9TXkK6S3vXUQSNaPpUe8JPjAxmRwXxBb+aeQJd05G5F+kPY2Grc9KlS+i4PtpWpEZtQaQEpA6lBKdIV391REQ8KPFnI2LeBXlzCMnwO9W3Ibo/lS4NtlwXESZIfhBDJQ2odSgs+6NA7PpWGfBrwjzh4Vci455TvPEF+yaBnUN+wZBEXaHVXbDlpmOht1CPrIjuI6HF+6NhS/j09Yb18jeM7wzcS5z/N3nnJ8G239JbTIjiM+8mIVgFHtDraFIY2FBX4xSex36d6xvzr49cP4I8QmG8dZc1GbwjIsbOQSMkYS/LWkLL6WUNMsIUVpUppJ6xsaXv4brVTkDwpZvjHMPK0bkvB+esoxvkS+yLrbH+L7swYE5h11a0s3Nh1OklHWE7WSBpWgUgKOXs+4izjgPnfgnm7C+LM1zXEcKwYYdNtdrS3OvMNQafDRcQkoS5/hglShpI6Fem0ghvjj19tWUWG3ZLY3y9b7tEZnRXVNqbK2XUBaFFKgFJJSR2IBHxAq41asYuki92C3XmXZplofnw2ZLsCYEh+KtaQotOdJKetJPSdEjYPerrQKUpQKUpQKUpQKUpQKUpQKUpQKUpQKUpQKUpQKUpQKUpQKUpQKUpQKUpQKUpQKUpQKUpQKUpQKUpQKUpQKUpQKUpQKUpQKUpQKUpQKUpQKUpQKUpQKUpQKUpQKUpQKUpQKUpQKUpQKUpQKUpQKUpQKUpQKUpQKUpQKUpQKUpQKUpQKUpQKUpQKUpQKUpQKUpQKUpQKUpQKUpQKUpQKUpQKUpQKUpQKUpQKUpQKUpQKUpQKUpQKUpQKUpQKUpQKUpQKUpQKUpQKUpQKUpQKUpQKUpQKUpQKUpQKUpQKUpQKUpQKUpQKUpQKUpQKVRSgkbUaoFpV6KB+FBypVNgfGnUn50FaVTqHzpsD40FaVTqT86dSfnQVpVNj506gPjQVpVOpPzp1D50FaVTYHxp1J+dBWlU2D8adQPxoK0qnUPTdNj50FaVTqHzp1J+dBWlU2B8abHrugrSqdSfnTqHzoK0qnUB8adSfnQVpVNj502PnQVpVOofOnUPnQVpVOpPzp1J+dBWlU6k/OnUn50FaVTqHzpsD40FaVTY9d1TrSNd/Wg5UpSgUpSgUpSgUpSgUpSgUpSgUpSgUpSgUpSgUpSgUpSgUpSgUpSgUpSgUpSgUpSgUpSgUpSgUpSgUpSgUpSgUpSgUpSgUpSgUpSgUpSgUpSgUpSgUpSgUpSgUpSgsma3CXasRvF0gOBuTEgvPsqKQQFpQSOx9e4rWz+fHk8HX0w12/8Aurf8K2Oz9IVhF9Sfjb3/APsGtSxAGgCD6aq9IifYkx5x5PPpeWR/zVv+FU/nw5R/x01+yt/wqN+wj5E09hTWnGBJRzjyiP8Adln9lb/hQ85cnn0vLP7K3/Co17APgKewj82nGBJP58eUd6+mmv2Vv+FP58OUf8dNfsrf8KjYgfLdVMDXqkfopxgSP+fPlAdvphn9lb/hVf58uTz63lofdFb/AIVGvYR8BT2EflapxgST+fDlH/HTX7K3/Cq/z4cojv8ATTX7K3/Co17Dv1FPYfsGqcYEk/ny5PPreWh90Vv+FV/nx5P+F6a/ZW/4VGvYR+Tr9VDAHxTTjAkn8+XKA7fTDJ/5q3/CqjnHlAdzeWT/AM1b/hUa9hH5tPYT8hTjAkh5y5Q3sXlr9lb/AIU/nz5Q/wAcM/srf8KjfsA+VPYB8qcYEkPOPKOt/TTX7K3/AAoOceUT/u01+yt/wqN+wfIU9gB9dU4wJKeceUT/ALss/srf8Kfz48oa/wDPLP7K3/Co17CPzaewD11TjAkv8+HKHwvTX7K3/Cqfz48ojv8ATLX7K3/Co37CPzaewj5U4wJJ/Pjyge5vLQH/AOUb/hQc5cnn0vTX7K3/AAqOCAfgBVPYPmKjjAkn8+fKA7fTDP7K3/Cn8+fKH+OGf2Vv+FRv2AfKnsA+VTxgSUc48o+v0y1+yt/woeceUT/uy1+yt/wqNewj82nsI/NpxgSQc48on/dpr9lb/hVf58eT/jemv2Vv+FRr2H+iKewj82nGBJDzjyh8L01+yt/wp/Phyj/jpr9lb/hUb9hH5tPYB8qjjAko5x5RH+7LP7K3/Ch5x5PPpeWv2Vv+FRr2AfKnsO/UVPGBJP58uUPT6ZZ/ZW/4VJ+MuVs+yLOrVZrxdG3YcpTodSGEJJ6WlKHcDY7pFY09hHyqX8RRfL5HsjhH1VvH/wDwOVW1Y2G0YGgBVaoPSq1jA4laAoIKh1EEgb7kfOiVoXvoWlXSdHR3o/KtcuW5fIMfxVYI5xtZseulyOA5Il1m93N+CwGPpC0bUlxlh9RX1dACSgAhRPUCADhvEORuRcWxTObDaZhtXIeVcw3uPHjWOEzdm3FtRGnn221THYjYSEI6utxSD20EkkCpG+dfKVJYhRnZcl1DTLKStxa1AJQkdyST6ADvutQsS5X5/wCX7XxfaLDm1ow28XzFb9erxIdsaZwelW6fFiJbDfngNpV5y1K6Vr0ewJHeuhkvLvKvM/H0KLYc3x/ClzOKGswuTL9qM1d1ekokNvR2Ap1HltN+RtSveUPaWe3rsNu4WR2m4PtRoN1hSXX4qJzSGnkqUuOskJdAB7oOuyh2Ndy53KDZ4D9zucxmLEioU6++8sIQ0gDZUokgAAfGtQ8YzN3j1LObRoQnyrD4d7VdmIIOlSTHL7gQNd+5AB++oteM58RmWcActHlK2efYrjx9NuUG6Li26KhmUtsaYaTEnylPMqQtSkrX0EeXoklQ0G9rautAVv1rlWo905k5R44uGe8fZlyVByW42+yWW42i+2bHEIdjTrlPchNQnIqpHlLJWltSCt1sdKypZAG6jePc8eIXI8ZtuETL5Ex3LXeVP5DSLtNssd15EQ2lU9Li4zEpxjzdlKPdeUnXfsdig3cpWGOZ81zbj7DMPstnv1sbv2TXu3409kU+HqLEccacU5MVHCwCVFkpQ2VhPW6gEkDvCsiv3NlpyPDeFI3NNhavN7t94vcrMJGPICFtxHIyUQ2ovtAQXCJXUpZc2ENEgbOwGzlK0/t3if5AYxiFkOQqtiHsvw2ejGm2GelmXksKcuGkNqUSS1L8+I6ygkkISvua6c3mjxQXLlq6WDB8edultwm9wcfuUYwra21dB5UdcmS489ObkMFaXnFNJbjrT2b7q6iAG5lKwhwpfuTc6z7kK/ZBmkFeNWHJLjjVvsLNpDa0eQWiiQqV5hKiQtQKegDuDvtWbgNACgrSlKBSlKBSlKBSlKBSlKBSlKBSlKBSlKBSlKBSlKBSlKBSlKBSlKBSlKBSlKBSlKBSlKBSlKBSlKBSlKBSlKBSlKBSlKCyZskLxC8pPxgv/wDYNaziCrXdG/0Vs5lyevF7qn5w3v8AsGsBGCkEj0O6vSNxYPYT+Z+6nsJ/4P8AdV+9hH309gPwH761Fh9gJ/J/dT2E/wDB/uq/iCoeoBobfr4D9dBYPYD69P7qp7F/QH6qv/sI9Nd/vp7AfkKCw+w7/J/dT2E/BG/0Vf8A2E610iqewH4p/fQWH2E/8H+6nsB9ej91X72FJ9Bv9NV+j+29AfpoI/7F/QH6qr7CfXo/dV/TCFDB+Q19tBYPYSfRH7qfR5H5H7qv6YII97dPYP6P76Cwewf0dVT2DtvQ1UgEJQ9B++tGfE/zjzNxpy7c8MTPYFnnstTrTtCgUsrSOpB0R1ELSsbOz2FBuA4iK1vzH2k/esCjLceQCplxtzXr0qB18vSvM+480cozHiuRkspjzde7GZbA+zWx1H99S3hrnzOcNzaPdpd5n3yAsiPOhOtKKltE9ygaGlJJ2P1fGoidx6Fexf0B+qqew779Iq5WaXbchtMS92iSH4c1pLzLg+KT8PvB7H5EEV3vYTrQ7j76kR/2LXqgfqqvsJPoj91X72BX/c1X2D+j++gsBgkeqf3VQwenuR+qr/7Afgn99QDnbIX8H4uvF8hyPJkhCI7Lg9UqWoAkfaE9R/RQdDKeTuO8NkJiZDksVh9Xq2nbik/YQkEg+n6DUritR50ZmZDWl1iQ2l1pxPotChsEfYfWvOC03u5ZbeXg+UPyw+21HSk9y4tQBP266t7PwBr00sFmXAsNugKCwY8Rps9R94EJAIP/AH9d1ETuLd7Frt0j9VPYv6A/VV/9hV6+n209hJ+376kWEQPkndPYT/wf7qv/ALAAO2zVPYR8u9BYPYv6I/VT2H46FX/2H5dvup7CfU6++gsPsBPcJ/dT2E/8H+6r97En46qogf0f30Fg9hP5n7qlHF8Ppzu1L1rpU7/8JddUw0gfAD7f+/3/AKquWD3az27NIIemJ62lL60oSpZTttegekHR/iKi3obApJNcqsKcwsKdn2p07/8Auzn9WuX8srD/AMYe/ZnP6tc8DtuY7Y3b5GyV21x13WHFehR5ik7dajvKbW62lXqEqUy0SPiUJ+VRnIuEeIcttcyy5Pxvj91gz7ku8SWJcFDqHJywEqkEEf4QgAFXqR2q9nMbCR2ku/szn9WqfyxsP/GHf2Z3+rUjr2DjbAcVbtbON4ha7YiywnrdbkxY6WxFivOIcdabA+qhS20KIHqUg1ZMl8P/AAjmNms+PZVxXjN2tuPteRao0u3NuohN6AKGtj3E+6nsO3YfKpF/LGxD/wBZd/ZXf4VUZjYfjIdH/Nnf6tB8xx9g6blbLwMTtYm2WAu1W9/2ZPXGhrCQphB12bIQkdPp7oqwY/4fuD8TiX234zxRi9ri5OwYt4YiW1ppucyerbbqUjSke8r3fTuakozGwH/1l39mc/q1X+WFg/407+zOf1aCNWfgDhHH8TueC2XijF4eP3ohVxtrVsaDEsj6pdTrSyPhv0+Gq++M8IcQ4bbodoxTjiwWmFb7l9MRWIkJDaGZ3lFn2hIA7OeWpSOr16SRUgayyxvuoZakOlbiglIMdwbJOh3KauyVBQ2KC15NieMZnY5WNZdYIF5tM5PRJhTo6XmXRvY6kKBB0QCPkRuoc74cOBX8Oj8fPcQ4q5jcSWqexbF21sx2pKhpTqUkdlEdiR6jsayPSgj0zj3BZ8exRJmI2l1jF32pNlaVFR0W51tBbbWwNabKUKKR060DVrvvCnEeT5hB5ByHjfHrhkttW07Fu0iA2uU0tpQU0oOEdW0EApJ9CBqprSgt1nx6x4/7b9CWuPC+kZbk+X5KAnz5Lmut1XzUrQ2fsFXGlKBSlKBSlKBSlKBSlKBSlKBSlKBSlKBSlKBSlKBSlKBSlKBSlKBSlKBSlKBSlKBSlKBSlKBSlKBSlKBVCQO5qtRPlnO2OLuMMr5HlQVzWsYs8u7KjIUEl4MNKc6AT6b6db+G6CVdafXdcqwViy+XMJtEjl7mbmG3SLDGszt2u1hhY+Go9vSlnzVeTI8xTrgbAI2oHr0dBOwB83/FpZbTap9wyzjLNceeh2uLfmos+NGLkm1vSW2FzEeW+tKUMF5tbyFlLraFAqR3AIZ5pWE+SPFbgHGU+5Wy8wbg9KgXeJYWEIXGZbm3B+J7WWW3n3W2keWx0rWt1aEDrQAok6rpWbxb41lNgx25YZhV+yO6ZHdZ9mas9vkQPPYlQ2y5ISt52SiMQlA6gpDqkqSUlJO6DPNK4MrU4yhxbam1LSFFCtbSSPQ6JH6jXOgtmSp6sfuKfnGcH/VNYYTDV0jaf31mu+jqss4Aesdwf9U1i32Q/Kr0FnEM/BIoYZ/MFXj2U/m1X2QfI7raRZfZP6I/fXIxAR9X9VXf2U/m0EUb7g/qqBZ/Zdduk09k/oirx7KR2AOvup7KfzRQWf2M/mChh69UCrx7Kfl+6nsp/NoLP7Jv8kU9kV6dFXj2MfAGnsv2UFo9iP5o/XQQyD9Qfrq7+yn5fup7KfzaCzqid/qCqGGR+QKvPsp/Np7Ik/A0FnEM67prBnil8LkbxAWO3yrVeEWnKLCFG3S3GuppxKiCWXddwnYCgRvR320a2KMQD0B1T2UK+Xb5Cg8ZM4xXkLhq8Cw8sYZKtpKy21NbQVxZOte824NpX2I9DsfECuziXGeVctTUxeLbdNlSl9JUthtXs7e/i4ojpT6E+texFyx+1XqKqFebVDuEZXrHmRkPNqP2pWCP/GuNqxqy2GKIVis0G2RhrTMOMhhA+H1UADfz+dRMDW7hi/ZHwjHsHCXNEWFAceaDVivsZZVCnuKJWqMpSvqvpUogA6ChrXzOw3sZHqkH7a+eZ4BjHIOOy8Uy60Mz7bNT0uNrTpSTvstCh3QtJ2UrBBB779ax1wpMyXGMuybgvLr6u+O4tFh3Gz3R4akybZI6kIS+NDqcbW2pBUPX3SfjqRkn2P8AoinsZ/MFXj2U/L91cfZT8qC0+x/0RWtX4QOJkbPh7dmY0w84/HvUNbqWmiolpXmI7/IdSkd/tFbWCN6bGt1jPnSQ45b8dwBl1TKs4vTFmdeT6oj9KnntfIlttSR9pp9DQ/wU8IZldeQlz8ghuSrVA9nkuSiAEFYBUsJOu/dQQPXYKjXpL7KVfkg6q4wbNAtkZEO2wWY0dtIQ2203pISBoaH3fH1r7eyfZSBaPYz+aP109iP5g/XV49lPyp7KfzaCz+xn8ynsh/NH66vHsv2fuqnspA3oa+2gtBh69Un9Bp7H8ekfrr7zLnboqwwXC8/1BPkR0lxzv39B6du/ft/rr4mNfriFJCUWtop7KVp1/wBfkCUJ7a+Kvj27Gg+Ej2aKyqTJfQ0y2NrWtXSAPT1P/feq6Lc6RN602q2OOJ7gPvny2/T4flHv8gR9vqKv0XGYMZz2h1tcmQo9XnSVeYrfwIHon59gPj867xiHeyKCKfyekS1qVeZq5CXE9KmGh5TI+fYHqPwHdWqlWC29mHktvRHjoabSV+6hISP8Gr4VX2Q69KuuKR+jIYatHsV/9hVVt6GS6rVB6VWsR8kPx3Nht1KiCQQDvRrkFoOtHezqtdfDFdWLTiHLEtCQ8/G5Ny51EZBHmOkS1KCQPUkkaH2msbcP8+eJi9WB3l/IMTkXfFLlidwyFURX0Wyzb3mo5eYZiqjzHpT4UpJZUHmUrBUlRCCCghun5rZ17wO/SuL0liO0p551KG0JKlKUdAADZJ/QK1r4PznlGVy9Z8czDlu0Zta8qwRzLG0261NRWYTwkxkJQytK1KW0Uvr0VnqPSPtpfs45NsnPl0xvPciegYhfky7fisKHamJESaUW0vr9olBwvMSEqbkK6VoS2pCEhJJJoNiGshsT9kRkjF3iOWlyN7Ymal5JYUx09Xmhf1Sjp79W9a7197dc7dd4Ee6WqazLhy2kPx5DCwtt1taQpK0qHYpIIII7EGtL+F8v5S48wPCsPvuaw8ltGScLyMmtTTtobjrtDkGJCSiP1JURIbUiX3KxvbY+CiK+N35v8Q+Qy8aw/iu3usTLdx7YsnfMSJavLuMiY257jiZsyN5UZKmQCY4WQVqG0aQFBug3fLLIu0jH2rpGcuUWO3JfhpdBeaZcK0tuKR6hKi2sAkaJSrXoaqzebOu6vWFm4xlXGOw3JeiJcBebZWVJQ4pHqEqKFgE9iUn5VqZl/JGT8f8AIvL3JaseYj5JbuJcXuKra4757cWT7TdA51lB/GNsqXtZSe6Uk7HapLwPa8st/iRzA5fyexnUiVgdgkR7mzbmoaUsqnXLSAlpSkqG9qCviFD19aDZ2lUHoKrQKUpQKUpQKUpQKUpQKUpQKUpQKUpQKUpQKUpQKUpQKUpQKUpQKUpQKUpQKUpQKUpQKUpQKUpQKUpQKUpQKUpQKtWV4zZ80xm7YhkUNMu13qE9b5rClFIdYdQULTsdxtKiNjuKutdS63AWuC7OMWTJDQB8qM0XHFdwNJSO59aDDNp8Peam03PAs15tuGT4BOs0iwos0izsMy/ZHWSyA7NQduqShR0oNoJIBUT339MY8N8sO3WTyxyPOz56Zj8nE4hkwGoaYtpkFJfbUlvYded8trrdOgfLTpCe+5+OQmx64lk+/wD9Kc/hT+cNr/klk/8Aopz+FBiGT4ObZP4vsWHXfN3bplFguq781k1xtTEsy7gtlbCnJMV3qQ82WFpb6OoEBtBCgRupVivh9Nge49uErIbYudhEq5TJCrZYGbaxcXJbDjOww0rpZKELSN+8VBHf13U0/nCaPb+SWT9//wClOfwoOQmh2/knk/8Aotz+FBLUjSQD8BVaiX84bX/JLJ/9FOfwqn84Tf8AySyf/RTn8KCRXcdVrlj5sr/1GsfiOddhV4nZ+25DebOKZMOtBTs2tztsfdUYGYxlAEYxkZ38RbHNf6qvUXD2c0MY6+FW85ex+Ti+R/otrlV/lewRr+TORg/bbXP4VtI7wjH7KqYxHy/QK6Ay5keuM5Efutrn8Kp/LBkf718kP/uxdQO/7OflVfZyPyR+qrd/LBn/AJL5GP8A3YuqjL2T/vZyP9NscoLh7OSfShjndLReIl5W603FlxHmenqZlslpwpPosBXcp2CN/Maq5eR22RQWwRtfkj9VPZz8tVc/I+aR+iq+T/RoLYIxP/zFPZiPlVz8j+jTyPsoLX7OflVfZj9lXPyB+bunkH5UFs9lProfqqns/wBmvuq6eR/Rp5GvyaC2CMT8TQxyPUV3nPLaP41xtA3ruoD/AF1Hb3yLx/jikJvmZWeEpw9KEOS0dSj9g3ug6Wd5vhnGuPSMpzrIYNmtcYbXIlOBAJ+CUj1UonsEjZJ+FaMZV49+JbBzm1yjj0CXPhzMeOPPIdQppT4TILzbgV0kJAJI13PvHYFYe8ZfOI5m5SSFW4zMdthXEt0Fx4kpShOlvAD3OpelK169IA32G9e7lfLOq1MY/Zbe8IUy4JW5HmOBxjyySC80N9SFEgdwRtPbXc0HoMPwomFqUjp48kKSSN6uA3r9LY7/AGVebn+EWwe9Y3IueHWaWiRFG3or6UqkgfnJA9wp+HVs6I7gelefOV8L3O0QYt6gJdEWalLqfOfSErBSk9lHsk9x7qlfHWuwNRo4ZmFmUi625b7bw30uIOlDfYgK3og/Lfcb7fIM05541OXsnyU3ey5Vc7E2XOoIExTnQN/mDpQNfLp+H21nHibxPv59csQYznkFOQXDGLu3eI7Jt/srrig240W/MHuq91e/nvQ389GbitN1X5c6J9GXEbCx0lLLp38B+QfXt6b+XpXXsV1umLXxi4sdTUiO4Fg/Mg/vB161Xcex6/FCmDNju3TC3E2yW+I7K4kvz30KIOitISE67fBR7kD47rPEQszIrMuMSWnm0uIJHcpUNj9xFeYlp5Acn4rGvbLp9kuzkeXEUVf4KYl5BdY18N6UsDv6qHyrf3iLMLEzjbFpk5Mi4XFQckphN7deZa6igICRs6Ckq0Ndt6qwyH7OfgCfuFcHksx0eZIcQ2gdupZ0Afvr4lWQXVpXskVFrbVrpXLSHHR3+DaTodtfWUDs+nY12GcXgFZfnrduLwdDyVy1daULA0ChGglOtnWhvue/egtCL0qd/wCYbe9OHvDzyPKYB9B76h7w3+aDVRj9xnhQvdzUWz0kR4gLSBo7IK/rq394Gt9vlKksEHYHf7aeRr8kboLNDtMKC0WYMVlhB7qCEa6j8Sfmfvr7+znv22N1cwx8k1QsfZQWz2c/LVPI16irmGPmKGOD6igtns++4A/VVwsDPRd46iPzv+ya5eTr0A19tfWBKhQ7qy3JlMNLHV7qnAD9U/Amq29CaD0qtdVu5W9wDy5zCvucBrn7bD/401/0xWIgrfAPCzWVfy7b4lw5OSe2m4/S6bNHEz2kq6y95vR1+Z1HfVve+9dy18O8bY3d7nk+IYHjdiyC7x3WJV2g2lhuS6HCFHrWlIKwVJSognRKRUsXcISR3lsj/wDeKoLnbj/68x/nBQYO4H8KVp4azK68gy7vZ7lfbjDNtQu0Y1GskduKp1Lq+tpgnzXVLSnbileiQAkdycltcR8ZtZfJ5Ab4+xxOTzEqRIvAtjPtrqVI6FBT3T1kFGknv6dvTtUoE+Eoe7MZP3LFchLin/1lr/pigsSePsMS3BaTi1pCLZbl2eEn2RGo8BYQFxkdvdaIabBQNA9CdjtVryThTiXMYltg5bxli16jWZkR7c1PtTD6YbaQAlDQWg+WkAAaTodhUy9oY+Dzf/SFV9ojj/07f/SFBZ5OGY1Lu7l/lY/a3rm7AVanJjkRBeXCUoKVHK9dRaKgCUE9O++qtuFcTcZ8buzHuPuP8dxpdwKfa1Wm2sxS/wBJPT1+WkdWtnW/TZqU+0sfB5BPw94V9EnY2DQANAD5VWlKBSlKBSlKBSlKBSlKBSlKBSlKBSlKBSlKBSlKBSlKBSlKBSlKBSlKBSlKBSlKBSlKBSlKBSlKBSlKBSlYj8SeRZ/juIWp3ArhPtiZd6jxb1drfaDdJVqtym3VLktxRvzCHENIJIUEpWpfSrp1QZcpWs0/xU4NxFxzh8u88nNcnzcocmot11jP222JmNxzt5TjjzzMVtTfW22R1pUpZ0E72B3cw8afH+J8U4xzG3a5dxx/JGZLu03S2xno3s6ilxIRIktmQvqS4AmP5pPlnW9gkNjKVh/HuX8oyHmW44Pa8LlXLF0Wi1XJF+jSI7bcL2puSsB5DrwdX1+U2EeU0rWz1ED0ivJPMWeYL4iG7BY8OyfMbOMEcu8m1WUxQqO6id0KkHz3WytXRpIbQSpW+ySe9BsTr7TTp+0/rrBN88VuOxGPpTFsKyjK7VCx2Fld4n2pEcN2u2Sm1OsuOpedQtxZaQtzy2krWEjeu4rpTfELmT2Q8lRcdw0XTHsWsDN5tmQMvsCMhS7WqWhEhCnw84Fq6ektN6APvEeoDYPp+0/rp0/af11gm2eIvJv5J4e/dOGcpey7L2XH4dghSLepxyOyw049N8z2ostMbeQkBx0L6loT07NUe8UcabExpWG8W5dkdwyO23S5uW2OqHGk25u3SG40xt9Ml9seY2+4G+hBUSUq12oM79P2n9dOn7T+usK8S+Ji3co5JYrE5gGTY43lePuZRj0u6GIWrnb0KZClJDDzim1j2lklDgQrSvTtWa6D4TBqK76/UI/dUdSx2A+ypJJG2HAfzT/qq0pa9319KvjncdLyD8qez/HX7q7waHwp5VajoFoj0FVLOvga73lVTygKDo+V9hqoZUfTt+mu75Q/7iq+TQR29WJU/omwnQzcoveM8U7T8Ntr13UhWhsfYCO4GuVnnx7rHUoMll9hflSI6gOppz1IOv0EH4gg/GpB5I/+VWa8WmUiSm+2ZrqnMp6XWd6EpkfkH4dQ7lBPoe3oTQdryh8jQMb/ACa+ltmxLtERMhL6m1bB2NKSr0KVA9woEEEH0INdryx6UHS8gfKnkfZXe8qnlfbQdAsgfA1XyP6Nd3yqr5RB1ug6PkH5VDeYl5pE4pyyVxzHW7k7dpkG0oQkKUZPQekpB7FQ9QPidCsgeVVCxug8ScYt/jMzu5XGNDxvkq8Osy3GFEx3B5TpPU4krdADZJIURsdyT8qyfY/Az4t8wUl6749abIZadvPXq8+a53OvfS0VEnue2jXrP5CB36e/xq3323z51sejWySiPJXry3VgkI+069aeR493/wADHLWLZZOaz7LsOxu02yQ2o3p6YEsPNBOyUN66yfe1pQHodkarp2bhvwzQPZrVdfEzjl5d88JZAiuJMhSgEhlelEAI1sHtokb2K9HvEh4VrLy/x9HiWy1QnMpsj6bhCfkvutJmrGvOjPOJV1ht5AKCdnp7aGgQdNsc8PHIOMsRraz+D8td3u9sefbVdbvdCpExHX7jjjaXPLK+kgbB0SNgfCqT4GPfEW3wzZcWyLHrXy9JjTbOEqZxeMpIZQ+fKbU0Ate1a6erp17vf5VpXDz3ILGwqFCmEtFJQUqUfqn8k6Pca36/Ot5OUvDpxTd8lFm5djyMFzy/lmQ5FxuCj6Lsi3wEtNPBbhU8ddK1lvXT1HXUQa0xzTAIXGeV3jEs0uJlXO0S34T8e3dwl1tXT7ziwAAfrDQV2+RFWyY8mOItaPEqUyVvMxX6fGFyZdXw1EmWiJcGEHpbjrSo6B+CT6p/QRUpbOMPtIRfZS8dOh/e04B1WvXqQEjrAOhrqAT39exI6d4xxVpw6Pk1lvdqtCZzSSiC3v2tY1r/AAh2sk+p1pP2elZA8HeGeGa+Zou6eJ7MmY9mLKkM20mQlx2QSNLW42NgAA/Hvv7KzjddkPw+NIzjK8X4zsMY3FhV1EtnzV+YQ5rv0eWSANJ2e513PbVereDcd33B7e41FjWRyQglIVCC2y632319XZSie++2/wB1R7w6cK+EvDFjMvDzZMcW7PjFr6Rgz1S3C11dwCtaikb1vWjvsazuWk6HxrSJEJezaDa7jbrJkMZ+DcLs8piEhTalIfWkbISsApB0CdEg6+HcVJw0CPQ+vwruqhsr6eppCulXUnaQdH5j5Gufk1I6AZ+Qqvkdu4Nd7ytVTyx9v6qDohgH8mqlgD4V3vKFCyANnsKDoBn5A/rri6htltTrxShCRtSlHQFcbteYdr6GAhcqW53aisjbq/gD/RTvYKjoDts100Y9LuryZWTKQ6hCutqAhW2EkKJBX224r09fdHbQ2N0HSE+ffwBj6Q1DVrquDqNhQOuzSfy/8o+722Or4XKxYvaoEhCjGEl1Z6nX5P41x1QR07Uo/YB6dqvKY6EAJR2A9NV9Y7ZD6CPt/wBRqtvQ7aLVbEfVt0Yfc0muX0bbv+IR/wDNiuwPSq1iLTPsWPLZW9OtEFxCAVKLjCCAAO5Ox2rGkXNPDFebXesitF2wO8QseKU3WRb1xpZhlSukB0NdRSSew337H5VNeWbbYL1xhllmyq9C0WW4WWdEuNwLoa9kjOMLQ671nskpSoq38NVqEObJONYLyHheA33A7xKxTFrdMtmZ4O2ylK2vaksCPLYR1IYeHvKSlK1oUlSiAjXTQbXZBYuJ8WtSr3fscsMGC26wwp9yG2EpW86lpsfV/KcWhI+1Qq8p49wYD3cStA38oTf8K0t53zGVkWW5vY805qn4/c7FnONQcdwYORGGLrazKtrokltxsvyCpxcg9TawE+Tojsa7P87HOd58UFxsSeULDYWbZmrVmYxqflMSOt+0BbY2m3LhF9515lRdQ4mSB1OAa0kpoNy/5v8ACPjilq/ZEfwrgrjrBlgg4pbO/wAo6RWHecf5a5LzbxtxjY+S8lxG13uz5DcZz9jVGS849FVCDAKn2XR0jz3NgAE/OsP4RyFzhiWNYPmv84uRZtd8+47yK8PWe6NRfZkXaFFYeiqioYYbWjrWpSC2VK2F+pIBoNtLjhfG+MQn8pnWWDCYszS7g5KIKQwhoFanDo/khJP6KvS8ks0fH15Q5NQi1Ihm4Kkk+4mMEdZc/wAnp7/dWnGP57JyPGs3xrFOfp/LdqunE93vF3deRFWbVc/LQhltPszaPKD6XZP97r6lp9m9e5q28v8AIkC+4i1YLnz2/geMucSx7ljxhSIbbGRXBbUhuSwp2Q2sOhsNxkllspUfaCdjtQbzWy5QrzbYl3tshD8Ocw3Jjuo+q42tIUlQ+wgg12q0jx7k274hy7xrZch5alPWa6WjHLXasWsd1gB+JIegoClXGC617Q40tSg4HmnPdHSCjQKq3ZbJKe+/00HOlKUClKUClKUClKUClKUClKUClKUClKUClKUClKUClKUClKUClKUClKUClKUClKUClKUClKUClKUCojyTi2XZXZmoWFchSsOuTT6XRPYgMTOtHSoFpbbw0UnqCtgpIKE99bBl1KDW2Z4OLc7YIDkXkKajMYV0uV3dyCTaIUpuU/cC17UHIS2/KCFeS0UhOlJUgHqUSrq48i+DtvPYVqUzyL9F3SPjq8YuclOOwXmJ0RbinFqajqT0RHStxZ62vUEA76UkbKUoMR2jhS649yLb84xrkS4QbcizQLPeLKqG061c0w0vJYcLivfZUA+d9H1ulO9d99TlLgfIc7zyNn+I8uXXC5n0IvHpyYVvjyFSIani6QhboPkubPZYCtdu1Znr5SHHGmVLaZLqx6IBAJ/X2oMB5D4TrY+2LZgXIF6w6zXDHoOLZBAhx2H/AKUtkVlTDKA46kqZdDTi2y6nZII7bANXZzw6RouX3a6WHNZ9txXIbEzYrvjCIrS2ZDbMVcVlxDytuNFLS0jpGwry07+NZZ+kLj/iV/8Azrf8aoJ1yH+4rx/9s3/WoMIRfDXmcPGMaiM89XxOU4cH4dnyIWeJ1otzzbLa4b7BBQ8k+ztL6yQrrQFb12Mjwnw+2bBrtjN2t+QXGY9j1jvNpecm9K3bg/c5jEyTLdWNDzFPMKUQE6/GnWtAVk36QuX+JHv883/Gq+33H/Ez/wDnW/40GMcC8P8Ab8GunGs5nIX5R44xKXicZKmAn2tt72TbytE9JHsSew39c9+wrL9W32+47/8AMr/+db/jVfb7j/iZ/wDzrf8AGg7jp6kLSfka6nl6PcCvmqdcSCPoV/v/APao/jXATLj/AIme/wA43/GrVniPv0a9AKdP2V0Jt6lQEpdl2OaGT2WtkJd6PTuUpPVr7QDquzbrva7q2HbfMbfTrv0q7pIOiCPUEH1B7ir84H26fsoUbrsBCVd/0V83+hppTit6QCo6G+wG6cx8vL7/ADrkUa9AK0sy/wAcGX325+zcPY4iahTy2GYpiOSJz4G+lzyRopSQO41sHezVhX4qvG7aZCnJ3h4kyI7J7uuWqQhK0nXxCux+8HXep5DfEt9vSqBHw1Wj0L8JzarEExeVOI75ZZiFJD8aEHHXgCfrJQttHUNg/H4VljAvwgnhYztaIyeQPoKUrX973yKuCfu6lgIP6DTkM0XWNJsc5zILayp6O7r6QjIHcpA/wzY/PA+sPyh9qRu+xnWZbDcqM6l1p1IWhaTsKSfQg11bHk+NZVDRPxq/QLrGWApL8OSh5CgfkpJIq2LT/JKaXknVkku7cTrtCdUd9Q+Taie/wSe/oTqOQkPT9gqpb7elfVCULGwoEfZXLoGvUmnIdYN9/Sqpb18K7Hlp+Rp0A+uzTkPgUaOtUCN/Cvv0D7adAHpsU5wOuUfDVU6D8zXZ6PtNOgfbTnA63lDWtVrH4lfEFkuJZjG4u44uEaBcGoYn3e4PMh9UZCz+KaaQT0laglRV1A6SU69djaUp7ep/TXmL46ZcLjHxGy79OmvQYd+t0OV7QGy4hDmi172u/Ttnvretjtr16NJfF3Y739Lx+u21NNDedJ/X9Ldy1yTl9xtTPM+Q8a4xf7nCLTUK9PqejFSUf4KRIioWUOgKO9dSe2tjp9NCM6w3OsgyS6ZpkKDdp93lOz5bzJ2VuLV1KPl/WHc/Aa0e1eh/HnIeIXrEUYPnDEV62S0FqNLbPXFkMq9B1jsCN6+7Xoai+YeHK5Y2yqfhLacmsXSSm2vKHtTSTvuw76LHbskkHuNGvV1ujjPWMmnneI+nxvx35RbT3nSdU/DeZ8S89YtsK3C0Y23E6SUr7K0NdtVI7Xj05XSDY+sKI9P+/wB1bJTOHsUz1DptEjyZ8dX4yNNQpuSwofkqPZwfH12PjqunbbFkHG8r2fJ7OZdsWoJS+tIUGxrt+NA16EfWCfvrw5pNZ2l+j48lclIvWd4l1eIJX0QhqySrlc7KpTiXoUmG8pqTDkdvfbUCCpKh2Ujej2PqN1vDwF42lx5asP5Svsa9x47pYF+jI6XWlDQ6ZLWhrQ9VAAj4g+ta0O2LBs6tjbkB1O0AKSEEIdbOvX/5+lWe2YjasGyNzJI8BydKfQG5SpLyl+0JA6dqG9dWh663696nbZd7CQJsK6RGZ9ulMyor6A4280oKQtJHYgj1Fdjo+QFaDeH/AJ+f40kIYblyLjhUl3++oJ2t+1KURtxpPclA79SAPjsd9730s9ztt7tke72qY1KhzGw8w80rqS4gjYUDvuKrM7D7BG/hQtAnvqvuUAeqjVru19g2tQihDkqc72ZisDqcX9uvRI+ajoD505DsOrbjtqddWhDaU9SlKIASPn3qwqudyyAeXjw9nhk+/cnUdiB/wKD9f/KPu/5XpX2bx2Ze+iTlLjbiUHqbt7aiWGzr8sn/AAp+8a+w+tSQNgAAEgD4D4U5Cz2yxwbW2sR21KddO3n1q6nXFb2dq9dbJ0BoDegBVw8vp/1V2Oj7TQpA9SaRaB8OjtvVcmUfjU/ZXUu95t9oa1MfPmOe60ygFTjp+SUDuo/d99dSIrK5yRKS3Bt6VklLDwU64E/DqKSAD9g3r51W1t42EjqlWf2bKSO863f5lz+tXEw8pJ7T7aP/AGLn9aqC7vNNSG1MvIStCwUqSobCgRogj4irVBw3E7XBftltxq1xYUohT0ZiG2hpwj0KkBOj6D1HwFPIys/+vWz/ADC/61PZ8q/49bP2df8AWoPpNxbHLlOj3O5WKBLmRP8AyeQ/GQ46z337i1AlPfv2NVk4xj0y6MXqXZYL9wjDpYlORkKeaHc6SsjqSNk+hr5eRln/AB+2fs6/61BHysHft9s/Z3P69B312y3uSmpzsNlcmOlSGnlNpK20q11BKtbAPSNgeuh8q+TNhs8cxTHtkVr2JKkRuhlI8hKtdSUaHug6GwNegrqljLPhOtg/5uv+tTyMs/4/bP2df9ag7MDH7JavaPou1RIftThdf9nYQ35qz6qV0gdRPzNdaTh2KTYUW2zcbtciJC17Mw7DbW2zr06ElOk/oArk2xk3mI8+bbi3sdYSwsKI+Oj1djqrqkEeooLYMWxtN0Re02G3i4to8pMsRWw+lGtdIc11Aa7a3rXarmhCUDSa5UoFKUoFKUoFKUoFKUoFKUoFKUoFKUoFKUoFKUoFKUoFKUoFKUoFKUoFKUoFKUoFKUoFKUoFKUoFKUoFKUoMHZR4pbPimUZLaLpx5mX0BiM1q33rKmIbD1tgurjsv7WEvGR0JRJZKlBnpT1Ek9IJGYF3+ysTmLVKu8NqdJHU1GW+kOrHzSnez6fCtR+UfD3n98vfKPIECXk8+K7mMG5HCvpAM2vJ7S1bLciSnpQEuF1RaeSnbnQtUdCFJKSdxbOvD1mGQeJK6ZHlFoz+dHveT2252K/WO0WV9m2Q2hHKEOSpSfboYacbWVoaUAobISStQIbxM5BYpFzdsrF5hOXBgdTsVL6S6gdu5RvY9R+uqQr7ZruZLVou0Oa5FUEvpYeS4WlHegoA9j2PY/I1pPG4t5Sn+Miw8gzePr3b1wMru7s+6xbHao1resqoctmIszWv79kurSYnWh09KVlWkp6E1nfwj8VwuLOFrFCmYPb8eyaZH6r8tmE0zJlPpdcKFSFoALiglewVEkBR+dB3+N+f1ck5zlFhtuKqi43jMidBXkEi6RdPyokjyH0CKlZeQgLS6A4tISQ3v8oVk5OU4yq1m+JyC3G3BXSZYlI8kH01171v9NacXvwzZLO8P+eRcdwiNZ84v+dXa5T5ESHDaul5spyFyT7P5zqeh1LkYJKW3iW1e6hQ6SRXTwbw8yX+No9qGC5Wu13bkmw3C6Y7lNjtEJhMSMpAkPphQEiOGlIKUr2kFRZ7g+pDddeQ2FFq+nFXqELeRsSzIT5Xrr6+9evb1qLYHyzjmaY/d8mVKYt9vtV8uFkMiRJQGnVRZCmS6lW9dKyjY++tYr5wbfsdiyYrXDxyPAMb5Tn3z+REVhgtTrU/akttLjxnVJZWhuW4t0MnSdhRA2kVEMo4Dze78U4s7B4syS0Y1b81ya8yMOgWq0SpseLMfWqC57FN8yKsNpUpPljak+dtP1TQb5zMmxy3sR5M+/W+OzL17O47JQlLv+SSfe9R6Vcho9wd/prT3jbw6W9/I+GYeS8czrvjGN41lKnWsutkFx23TZVwhPRkqZaBYaWEpf8ALDQAQhOhrWq3BQjoGt7oOVcK5fHdVoPkpAUQSPqnY++rTdcYtdyUZLjKmZfSUJlx1lp9AP8ATHc9++jsdvSr3SgjGsrtKepktXhgBsJQ4QzJGhpR6vqLJ9de56etdiDlNsnSBBeW5Dmdz7NKT5ThI9ekHsoD5pJH66v2vsFdG5WuBcIxj3CKzIaV+S6gKHp+776DzQ8e/HeReHHPYPPPGV3mWa1X24KU67DKh9H3FW1KCvgGnveV37dXWCNFNa582+L3mTmiPbpF/wAiDcK3xENuQraVMsPKH1pCkhXvlRPf4DXYfGt2fGrmbM3EL/xqi1XW54tcY6o61bDyGJDQ6krC1e8nShtI6tEo16Eg+Vgx28YteUuYvcWbu2yoOqiJ91Z0e4LSu5Ou3u7+RratLTXlt4YzqMVcnam3lLbZl8d9sFyOCDr3mjqr/Fv9mfGnJikA+qVp2NVi27QnrC83kVqbcNinqV+KO+qG+DpxhY9UlJ7jf5Kk/HdXyCtmWyHWlgpUN9vtptPv6axMTOzLuFciPcf3QXnC8jk2eYSCpyA6WCv/ACgnQUPsINZ9tv4QLnSJBEJ9+zXhvo6C5NgArWCNe/0FIPY9+w+NaTOsuNkFPpVxtuQPwtJV7w9NGiW79l/CCc4W61IYttnxp1ETqJZfjulQa6tp6T5m9JBCe/cAD1FZKw/8Jg/0MM51xltRUA9Itczeh8SGnAP1ddefkHL2W1JfS2AtPftV6VkVscj+3xoxCNhLqAf8Eo+n/wC099GqzA9geN/E9w5yklDeO5hFZmrIT7BOPs8gH/JX9b/9uxWVUOIcHW2tKkn0IOxXhW3ltu0AGF733IPr+isiYj4l+R8Na8jG81vkVoa6WVSfNaH3IX1J/dUcP0HsnsfOmx868uLP+EL5vtTSWXpFsuWh3XKipCz95QUj91Sy3/hKOTELaVc8EsM1lJBWG1ONrUPjokqAP6KiazA9G6Vqvxd+EK4mzSa1acugzMRluAdLstaXIpJOgPNGunfzUkD7a2ihXCHcYrU2FJafYeSFtuNrCkrSR2II7EVX0PsQD61on+FK45bvuGY5m71vW9CgSHLbcnm0Ellp4oU0pZH1UhxBGz2Clj51vcfSonylhETkXjvI8InthTN6tr8TuPRSk+6f0KAP6KvjtwtEyxz4pzY5pE7TLwjxf+WfGEhb+MS/pOxySFvwnE+Yg9xoqR+V2Hqnv61sfxRzvMmQnE2RJQqH0qnWiS91J8snfnMK9QkfEeo+0emH7hi92xd1961MuFMRa0TLatWlslBIX0fLRSdp9PuHcUjlc5MXJ8Pdbi3qGrzYbwGg8e22HE+hCvq6PxGjXt4qzMdzSTtP6PzjrOjm22n6jSJifV4/62XySPhfLTSLjHcdteQx0dDM6PpEqOR8CfRxG/ge2h8PWoj/ADXZ5As4dkcyXL2thC3X/OtDUph5AJPUhG0qPug7GyoDR9KhlkyBOXQBmuLoXCuNvX7PdbaDpUORvX1R3LS/e0fhvXqO+UcK5KjXWG23dWw60CEL6u6m1D5j4H5Ea9K6648PVsfKvi8e3haLq+v+L54xZt74v+MQ3birlBmYi4YVOx65yelMjVsWqC48nf1vZntJUN/mk/fXQPJ2QWCSLFy1is+zSdlHtC2FJbUoH5Eb+Z7brYjJsc85mNkluvFwbjR1OOGZDWVKZQog/j0JIUptPSAFo95I2VJVrqELu18GSBnB87mQ5EZ1sPNPTmRIjyEdOw4hbf5JIA6k67n4V4mfBfT243h+tdO6np+p4Yy4J/wgkG/+yuoveM3Bt1KtKBbV1JUPkoCtpvC34knLEpOKuygLZJd6kw3FACI8o7JbJ9EKPw9ASSOxOtcGOC8EFwuj8LIJeNm3xnnVPWl1c2ItxOwlKkqG9FXT6KI18e+6tKcJymxXGOMZu1vuE1L/AJWkocS8+PdO+gJJSg9QGx+lWzqsJjd6D12hZJOy9hK8bSqPCOuu4PI0fh1JbQe6jreln3Qe46qvdosMK0sFLAU487ovyHVdTr5HbqUo+v3eg+AFa3eHXkLKIt9hY3lX/rtvbRIS44FLakoHqSDo9Xw1W0rZ6kBQ+PesrRMSOISE+hp23XMqA7E63VovGQwbV0sO9T0l0HyYzI6nXSPglP367nQHxIqouTjrbaSVqA0N7J9Kjb+QT7uoxcZYQ6gKKV3BwHyGiPzNd3T8NAgD4kelVTZLnkRD+SLDUVR7W1pe0FPYjzlfln190e730eqpGzGaYbSy0hCG0DpSlKdAD5AD0oLZasdhQHHJ61uypz407KfIU4tO9hI7aSkb7JSAP07NXVtAR2G9VzA0NVWgUpSgUpSgUpSgUpSgUpSgUpSgUpSgUpSgUpSgUpSgUpSgUpSgUpSgUpSgUpSgUpSgUpSgUpSgUpSgUpSgUpSgUpSgUpSgUpSgUpSgUpSgp0p/NH6qdKfXpH6qrSgp0p/NH6q+Mp5mKyp5xtakp9Q22VqP3BIJNfeqEA+ooLV9PW89zDuH+j3v6tV+n4H/ABS4f6Pe/q1dNU1QWz+UED19kuP+j3v6tU+n4B9Ydw/0e9/Vq6apqgtgv8AekS4j/wB3vf1afyhhf8VuP+j3/wCrVz1TVBbP5Qwv+LXH/R7/APVqkbJLTLmKgJk+XITo+S8lTThGt7CVAEj7aumq6Fzs1tu7fl3GG2+lJ6kFQ7oUPQpPqk/aNGg7/UD6Gmwai/0VfrKFfQVw9sZSB0RJ6idHq76eG1DtvQUFdwO43XajZXC9r9iubb1tkdXSlEtASlw/DoWCUK+4HfzAoL/XxkhXkq6eknXbq9P01yS6kjYIP3VyUnqAFETG7yh8QfJPLVs5Av8AgGaNs2a3OynG0RIjQS08zsqHvqHUdjXx0QR2rDWR8fYjlDPndCbbM12cQdoJ+Z+Kf9VenXi58O1t5exR6+QoTX01a2VL2NJVIZSNlO/z09yk/ePjXl5OXccVuxx2+OdSVbVEl9tOI3ofE/eflv5d6+k6dqcObH2bw/NvknS9bpsv87gvM/8AFkt3HGXRkzrRd2xdcfkNH2hxQ8wNEfVcKk++Nem+4APcaqPscXyLPfbdj4kqh/Schllh6UeuOtTjiQkoeSNFJ2T3Cflv41mHCbrNi3pTTN6FvPldTJcUfLdd2NIPfSdgqOx37enfVTOdb7fcvMt0+3RrdOfUVqiSATBlq2QFtrAPlKJO+tPbeiUn1E6nQ46eK+nHoPk2srMZMv1/ta53D/Et2v1+4hsVmukS92Ni5GPkT84K9skwmFuOB2P09KGleSsJ6VdSdp2VdxWrzzJA6vmSe3p61thyNfeS77arjZ8TkWm2XmdE9muLrlubausyPr3v76Gw4hY2FLToqBIWSSQNSrkq947LXbsktT0Vxs6J6D/q/wDGuDVab1OKviIfa9M65h1cccltrfo5MPBBKNaq722eYb3moSlxKgUuIUNpWg62kj1+A/dqoyqfBdJUzJRsfboj9dcmppR9VwKH+VXBNZh78Wrb1KaS2WWUolRVlUZ/fQpXqlXxQftBPr8QQe29VRD+hoHf6qslryNuIpTEsF2M/oPtA+vyUP6Q3sH7wexNfabL9hdCfNS6y4Otl5I91xG/X797BHwII9ewqtHlekSOnuo/bXeg3byVaUexFRBV5b0CT++vk7e0BJPWQPXsfSgyW9LiqaCkkHY161nbw0eLHKeErwxaZ8qRdMPfcCZNvWsqVHBPd1g/kkepT6K+w960rczpiIroVIASDrur41IrRmrMpCFstvPKPupCGlK7/H0H2apI/QDimT2bMrFBybHbg3OttxYTIjvtnaVoP+o/Aj4HdXdX1T91aT/gtMoyrKeJ8hlvlDmKx7uY9qWtf4xMkJCpKAk+iB1tkf0iv7zuwfQ1kPK3xb4c7xt4ib8GkeXAyIovkQ+g06dOj5dnUOH7iKwhbcLlvZu7Gsz0aLbrkhqQtySpSGo8hxfloQAkFRLikrISkb91Z7AEjfD8JVgImYVjXJsOKVvWOaq3TVgekWQn3SfsDqED/wBoa0wwbLnscn+2xmo3tCJUCfHkSGVvNodYW4lba0o97SmnVaVpQCgNj4p6tNmvhtypPlw9R0eHXYe1mjeFkk2TI8dylnKcWEV+8NtpEuIlz+9r3BV22Cde8OkgEjYKTvRSRUobueNyrwZNuku2S4LI8y2XZJjrcBJOgo+4oj4EK3rVRy75xBvF7RMsBKBAUpD6gFICpa1qckdKFAFCPMcUEgjfSNnRUQMl2h60ZdaEe3QmJCFe64y40lY6vlo+lfR4NFN9tVitxtPuPqX4/wBY1VcWa2hzU5Ur6n7iF8xbK5GPPpaZeUw4e64zx0lz7j6fqqw8ucbfyvtEzMOK4azPt6DLk48pXQ3Je/PY0eptevUJ0lZGvrbJp/NtGiNKTYLjIgpWrZYUovMga1pKVHaB/kkegq+Yy9kFldakPlIkx1aStKthaR8Fb7/f/t+PZm0c6vH+bG0vN6f1mOiZ4vprzas+4apYx4jPOYkWW4AQ5EhJZktKbQhavgpAJ7enx2DtI2D61s7wTaMYym7Wm7XnISqPaoZdQpT5S2pKE9Wg2O/UFDQ+aTr19cBeMLhqFaLjH5zw21I+irjIDV+hIQnpjyVH6/TrQS5o99aCu/5QFZH4tx223ni/E7vx9c3Y0j2V2MqO28h3rfSOpClR97SVKSQVlXulI+Br5HNitp8k47fT9z6d1DF1PT11OGfE/wCmxXH+Wyrnl8u/lr2cBTZYQBroSkkJ339elKd/b2rezEsgau2NRLq6pLaVMhSiVaCdAb7+nzryz4wvGffTEmDll4bfTDcdfcLLCNohtNla1Ek+oSlRIKtDVbFeBzxG2/xEZbmOHXKM+i22vybrY4Ty09Cov+Cc60gDqIUGlEEkbd9OwrG8b+XZMxHtt49ebpkC0s4wAiIdhy5Oj3NEEfiUn/CEHXfsn7T6VcrVjsK1+Y8hK3ZUg9T8l5XW64fkT8B8kjQHyq5tMoaSEJToAAAfIV9KyS4oSEjWq5UpQKUpQKUpQKUpQKUpQKUpQKUpQKUpQKUpQKUpQKUpQKUpQKUpQKUpQKUpQKUpQKUpQKUpQKUpQKUpQKUpQKUpQKUpQKUpQKUpQKUpQKUpQKUpQKUpQKUpQKUpQKUpQKUpQKUpQK6s23xrgw5Fmx2pDLo0pt1IUlQ+RBrtUoIyvGZtsX1Y3dVRklSSYsnbscgdtJB95Hb5HQ/NNVayswChrJIDluUrengrrjq0ddnAOwPYjqCfWpIQD3Ir4vstqR0lCSk9iCOxGqDB3IfjU8OPHWUDB8pzpv6TW83FdRGiuyGmXHPRtxxCShKtdyknqA76rz95B4vTOgTwmLdF2BVwkuWS5SIS20sMKcUWWwo9lBKSEnv6D7O1x8QnHONcR+KbLMzzINuYTBmQrvAhLJcLCnW0LklO+52pTiUpO+69DQArr59yK/YIHIXIl35ist3xTILJco9saYu7b/0i4+ysQGmogV1tLaWWjooT5QaV6aNdmlxxO9uW0x/tzaj8Udua7xLBMeZKx24qx7IfdWwoJQ78NH0IPxT6aP2j7amtrzC4W5tmFL8qdASAEtSB1hKNp30He0nQ9R/q2Dhrj7MX+Q4sLCsjQo3UnyLRPShS1KUR2Zc/KUDrsfs+frPbdhmeQmzFn/RMaOlJV5siclfQd6A6WgpR/V8vSvZ0vUKWpEZHwHVfi+euabaPzEssTclx9+C2mFIel28PgIhS1ESoiygEuNOo7p0RrYIPzB710b3Eayy3KhC0QsoCgPLZlvtxJrQ1rQcI8t319R0k72UnRNYxlQr9DVtF/tDi0dtJjyFAD9KRXFqbmQX1RrjaHug+haeR2+XUfT4/uquXPp9pnFbaXHh+P9WrblOOJj93xunAsh1alvccZhBST6RzGlpH6lg1bD4dVOJBS1k8QKKR/fNiJ6d+mylZ1WQrHyjIhOptmVtv2x1RCULddKmVkdvdWNDXyB1+msn2m+3ZaQqBdXOg/BuSU9v3brnpptTn84prZXW9cz9Jtwz4bR/fdqrL4FujLpbtGQMOujt5bqHGFA/I9Q1urS7j2UY0F2fL4jzEF5zbMlSCUtOHt1pUOxSdgKG+47juBW6E1IvSFJyG3NzFH0eX2eR21sOD3h2J9d+tQ2/4/f7ZHfNmcj3W3kbdt1wCdrT8QFkBPZIGtgem971W9unZuP5lYdXTPmOny2iItO8/UtQbg29bJJizj5axohW+y0nuFA+hBHfYqw3SfImr+j7YV6UdKc9AN/L+NbBsWTCuTGxaoEGRj8uI8Qt4Nl6A1+egn8lO/TpUe57djWJ7pa41gucuCjoWuM4ppXQT09SdjY3316dj3rysuCcccvp91oupY9Vbt7bWhYbfhkFTaPpBK1dak9ZCtfHvX3VmJxts222FBSwtSUqI2tXv91emu/f/AOdcrneXW4YQysea+vykaP6yP1a/TUatjc6+yBGagocfedSkBA2pS/qpGvjskfee3xrnek91fwbdrx+B4SMQnY/GLP0sqZOm7178ovqQtWh6fUSNfIVs+TqsR+Ezjo8VeHbAsIc/w8KzMuye2vx7341wfoU4R+istq9FfDtWM/2GJPFnbot48OHIMKUAUixvyEE/BxrTiD/00JryKx+arqbIJ6gdaHqfj6V6H+OHlzlfCbjYsQxGxR5NivsRxM4ybb7Y1NcKukxVJI1ojp2B3PV2I1WjnL0Sy4byhc7BjUFu2sKRGefjoWXFQ33YzTjsZJPcBta1o169tE11di+OkZJ+2VMsXtNNkRym3Q8cvzeTO9Zj3ZSI0hhHZCJABCXFK/J2BrXz9dVKcTyGbAuLLqUdbaiG1NIGgAdeg+e/9tWt9iHkFokWOcgFqS30dW+6FfkkfaD339n21kjwu8eyb7aJec5cy39GWJ92F53mAplSGwBod/TSklXp8Rvv29npmurhrNcn0+F+V/H8uuzVvp4/qnaV5k5xYrbDdm3B5yMwwQHXloKUNkn0Kj2HqP1/GrexzHxvIJScpt53315yd/q3WvHiW5ggZXk07EbTb33bRbA4iMGVAIXNJAUtxOtr0kq3rXvFPp06OvbWN3Jl51y7ufRsZhzodeeJ11a30oA7rUPknfzNXt1+2/irgx/w10/H8WWd/wBnov8Ay540yaFMxe5XWLOtt5YVDlxgsfjEK9CnsdLHYg/AgfIVijw1WyNxPnWQ4jf8lhKs63XVwJ4Kwgo9Pr9gFLSoHQ2AUq331Wt2Lcst4W6yrFrS0w7HjPstTJMZl1515xCkhxZUD0hJXsJT8gCVVnnhrxQ4Pi+FXCz8gXaZLyR19bjEpNtQqMlJ6Qko8tIKdJ76KR3J7+mvP1mtjW2i0xtMPqvj3x//AMGtsdck2rP1LbTjDjgckZRe4WLpiPxbhZpts9sjuocDCZLRb6iUnse+/QfVP6J/4LfALkfh5zCNyTl2eR5FzbhvxDarc0Sx0O62HHFaKtdKSAE+o9auXhN8VXhKkWaHidi5OtMa/vtgOouTS4bjqu3uhboCVHfV7oJP2VuMw/HebS6y6haFDaVJOwR9hrzbW87PpNt32pVEqChsVWqBSlKBSlKBSlKBSlKBSlKBSlKBSlKBSlKBSlKBSlKBSlKBSlKBSlKBSlKBSlKBSlKBSlKBSlKBSlKBSlKBSlKBSlKBSlKBSlKBSlKBSlKBSlKBSlKBSlKBSlKBSlKBSlKBSlKBXHqNVUdDdcOo6+rQcuo06jXDqPyp1H5U2HPqNWDPcutmCYjdMtvDgRFtcdb6tn65A91A+1StJH2mr2XQk6VoV5x/hG/FzbWp7PBeJXZCSwsSb3NQraEODs2yD80qJUf6SQPgamI3nyNHfF/zBkvJ+cTZEt1RhGSp+U4hZKVyVE+4P6LadISD8j8hrCWJYpcMyvkOyWeD7ROlOBuPGRoqcP6ewA13JOgASfnV6u+OxbRcU3KDeYd3tqyh55pMnrWtBV9Vejsk/r7Ut2Pwy65MXIdjxlOqCWwsFYQT2So9h6D0/wBe60mN/A318OOXeCrwdwf5T55nkXNeRynZFkirnR7Tod2mHQPLUvvpTpV6ghJA2TCOafEf4Zc7uy824oN5xybIfCZtluFvLbDxVvqdZW2VIbPxUhRAIPu/FJ1SYj4qhKW5DK1d9lSVDW/0j7R8d185OLWy6MbtUkGUrv5S+2h6+vx0D8PWoiu32NhnBbr9FTPgvAKJ6x0bIP2j0Ou/f4itgsft/KsC14Lb+J7Kw9h0q2Q1XVQgtvRHpZP9/Ce4tBKQFdQ94gBtKdfOtDMKyG5ceLSq7PrU08eiJHUrfUdlJWoj6rfyPqSNegJrL15ul4nRsjcsF4uTyIsONLQwlvoiTvMGlJAB93oKenRKjvQ1rtW+HL2bctt/3Z5aTkjaJ2dnMLnjTOXX+3Y6EzMa+k5aLe0/+MQuOHV+Xo9+3TrXfZGidkmrI3lkfBJzCrRcnUR3VgKtTx8weo/wRHvJPy/J+wetYok8j3OCtftVtLTrfujXcdQ+BOvXtWSuB8Cfya/ozTL1KUpO3YbKxoEjWlkH0A7aH6a6NFGW+WO1Lxuv5dJg0draqInxtH7ti2JMwMJfBJBAPSre/T03/wCNWi+mHd7NOul7fXHskFBEoOr6G1EfAlPdfy6d/EfGpC83tkhsjQHcVE8ziP5bwtebPAQpcuwzm7hJZSNFyN5vUteviBs7+xCfnX12TJbHhmfcxD8R0elx5NbSJ/DEywDnnMDk6CbFjUNNmsqNpSENhLrw9PQdkA/r+2se+2PZoG7U0kIuTYCWuk+9Mb9Ck67qcCSdfnDt9YDfDJILwuslTqe5VtJ+GqttpU/ElrkxR+PaQpTR79lgdvu718RnzXzW3vP+H77odBh0GPbFH+fuVvuz7Zugix1gtw/xKCO2yPrH5+u/1CtlvBrxrFzjP7UuVbm3VyLg0w2ro+rtQ6lff3J/QT61lexYBxwxdsP4te4hsd9g5VbrO7cb2plf0jcJE2M047KYkBX4ny1OL0lA6NoPWFbOpL4VbNZeNsljvW6ema1Zbw80xI2k+c21IUkObT295KQe3zqcmnvhis2+3TTNXJMxH09WYrDcRhuMykJbaQltA+SQNAfqr6lXY9q+EeSiQ2l9o7QtKVJPzB9DXNxekk7AGjvdcuzVob+EE5rynGM8sOFYblk+0GDbHJs8w3y2pa3l9CEqI77CUFQ+I329a8/bjNkGSZb0hbjryi8tSiSoqJ2SST3J+fxrLPiYz0ci825jkbcnzoki6qiQ1HuPZ2R5SNfYQnf6TWG7ssKSXXPc0ogfaPhWkeI2lG0JFKvMpVsjs2cdU+5uNwoqB3JdcPQP1E1s/wCIW+2fgDw42PjvCEOKuHs6IaAlP4yTMWAXHDr12pRWT8jrfatNsbzBzBc2xrM7o4lu12SeiS4l0El5JPS4ltI2SrpV667HvuqeKvxISebMseesV6lv2CHEYYYLjRZU4rpSlRKd9QHw+AI9R8Kjfad4XiYiPMeUStmLQI+BDM2rk5dsmZvaYPsLSlLQ2pTbjnmKWgbWdJUT0qA7evrUBvRvlzuCnLkt2W6D5aSkEoSPXSRrQHf0/jU48OmQ26151Gtl3WsxLg42QNAp85IUkdW/QFt15O/XZA9CazDKwNi4ce5th5aQ7eMJnKmQ3Uj8a9EO19z8QpBWofPafnU+1Wrz1rXH6W3/AKxSlRAG9dvT9e6uNmtVilzERrneHbcw4QFPqZ8wI+1QHqPn8Rseveq3VtQdbURvqSQfvHf/AG/urp/bUR4Gd7d4bsbudi+nYnI1lnR0pJQuA04rvrsHEqIKT6/L9NbI+GTxLTfD1Hh2O6cp3m4WiKA2uyz4ypUb1/8AQupHW19g1rfqK0ItGQXewPl62TXWQrstKFaSofIj0qSxb+5dUpcddKifn6g6ptExuP0M8b8j4xyhi8TLcSuDUuDMQFApUCpCiO6Va9CKlQUSN14y+DPxSXXhDL2LXc5i3sZuToRLZUo6Z2deYP3b+zv8NH2Isl6t9/tka8WqUiRFltpdacQdgpI2KpNdhcuo06jXEL16gU6/sFNhy6jVQd18+vv6CuSVbUPSo2HOlKUClKUClKUClKUClKUClKUClKUClKUClKUClKUClKUClKUClKUClKUClKUClKUClKUClKUClKUClKUClKUClKUClKUClKUClKUClKx3yhzphnFF0tNgvULIbteb2zIkwrXYbLJuctxhgoDrpbjoUUoSXWwVHQ2oUGRKVH7Hlyb+7GXGsN0Ygy7YxcmpkptDA24TphTS1B5DqQAohTYA6gN9QIFvtXKGP3jki98Yw2ZSrjYbRAvMmRpBjqZluSG20pUFbKwYrhVsAAFOie+gmFK+UeSzKSVsLStIOtpUCP3VwM6Kl8xi8kODv09Q3QdildYXCKoqCXkqCDpZChpJ+R+VclzGG+oLWAUDqUCRsD5/dQfeldY3CGlsPKfbDZ9FlYCf11VM+KtwNJeQVEBQSFDej8dUHYpVAdgH51Wg4O/UP3V1Qvt3J/XXYkdmVnetCrf5mh6ga7VbHG/sdkLA+NPMA94/6663mfAK3US5Zy24YVxllOWWkNKm2i0yZkfzRtHmIQSnq+zet1ptsMQ+ODxPx/D/AMdKhWR8Ly3IG1sWxlCStTQ0ep4hOyNeg+3v8K8uuCvDTyL4v8gS5Bg3HyWpin75f7gS3GbJI60DfdSwCOlA76HfQJUPvn+T5nnt6kZhmmTP3afJVpTsl3ulO+yEpPZKR+anQ+yrlxZ4iOXOE5C3ePMrdjxXNqdgPgPRXFEaKi2fQ/0k6V6d6gWzxQ4vxpxRlSOD+MkJkW3DggXu8LSlUm63bp6XASOyG2/qJbSdBXmb2e9YrjWyHBe8u8RUTrnraobi1Jjwk9IIDp7KcdP/AAY1rts72kfa83u5yL7Myu9PmTPW47O61IKi/LcXvzFAduxJc+XUkdqkfhm40k84cxY5gLhe9muMxL9xcbUetEYHqcPV6hRSFd/XQJoLZhwyvJ8osWIWmy2GRcMjuzFqgxHoyWmvNdUEDzFIAIG1D16u2/lqtr8u/Bz55bbbMu1ntEGfc7THS/JhWuap1tbgG/KHUhCirR30gFRB+B1u0eMLi/FvDRzGnkXEkCLHhZDbcit0RhSVeU4ke+nR7pT5iUqIO+3b8qvVXDplkm4xbbpjjjb1tuEZubGeSvr85DqQsOFX5RV1bKviTQfn6yiLOmSZVpyVsxLnGKkKLrfR0hI10dPbp6da1rt06+FSDA8rkmCY8tbq1Rl+S6jrOnUEbBA9OoaJ+3RFZa8ZmG3q9eIHk7II0W2x2rdkTUFu3xlBMhwqitvB9LY7rCgSpSh+VvfwqJJwTILfY7Ze5eBv2my3jGodzZll3zPblqWQJHXr3CfrdH5KVIPbe1B18tttrkYtPU0wFrHQ4l1oAbOtgqHxBA9fgT8BUe415JuOP3qJaZ76X4iXEpZW4oAgdWinq9Na9NnX2127PcUsSHIEhZcaCSkjXZbR+GvmOx199QjO7A9ZZ6ylClNL/GNOgn3k+vffx+Gh+aDr57Yc98FuVHFrtBg6jinFnjeG5ca9RbhFDkVz1QkqQdhSSUg6I9Qe/wD33VkgXp/D8sFybbS5HcCg8yrul1lY0tBB9fj+kCtdOPOWLvZgmFcnHJbLXuo6zp1Ce40lRHp6e6QR2+HqMuozmyZNbepMtKJDHvg61s/EEdyPQd9639+q+i0XU6Zfw5PD8z658Uz6P87T+YjygfPnHcfFcgLtn09ZpzQnWp1I7KirP1Pl1Nq90j5AfOsLKcMZ8PJHcfHVbayoKOQsOdwtS0LuEErn2RSvi50nzGAfQBad6HoDr7K1VvUIw5K2iD0+qer1Hf0P2j5V43UtNODLyr6l9n8Y6rHUNJFL+L19p1j3PfL2L48MJsefXOLYH0KS3GQpJUwhRPU206R5jSCSraUKSDvuPWs3+HbJkocRC8w9lAj5fKtRozpI8j8pB62z9o9R/s/V8qy5wllP0df4fWvsVBJ++uCJmfEvpYiI9Pc7ia/DIOPrJNLnW4iMGFn4ko93v+qujzvnQ454ey3MvR23Wx0xwo628seW3/1lisT+FrN1FIxOXLR5c2KZkFJPvFxtWnQPn7q2j+hRqGfhJ83+iuJrDhjCyHMlu4W4Aexjx0dSv+stv/uKmYS0b4Pt9lvfLVgt2RRI0qO6p9bcWUvpakyww4qOys7G0reCEEbG+oD41kPP5OV3nifKL1zDiUG3TLM/EYxuU9Z27c6JS3el2KgNoR5raWutZSQrpLaTsb7603KU6CFMrIUVhzq3ogjsCNfcD99WzLMyyC8QR9L366XL2dJS37ZMW/0dXwQFHt6fu/VrXLFcdqTG+7K2KZyRfdj/ACy4PXmXJemyXFqUhxze/RI7BOvgO4Gh29QKijKQbVJWT381sHfy0f8AaKv6Y7lzkTXFQ5aoyQhh2QywXfKT1DZIH3bHp3/TVmiR3ViTCUypKZI60qHolSVbT/tH/jWEtXwscgxbtBkJfVHLb7SvNHqjSh7w+6t7sanxo2c47ky47aomVwzZbgpSvcW8kDo2D394BCe/r73zrQjyHWUoU42pAI0nY1v9f3arZriW9y8p4bm2qOtRuuNSPb4CvU+Y0fNT6+u0FY/RU1GPuUsLVh+Z3nGJB03bpilNq16s/WQf+gQaxqbvILn4htoJ9Ep6f9ff1ra3xN2+NklvxTle2NoEW/QERpSgOwd11J3+grT37/i61Zg29yUp1MeIXvJ7r6R3/V8f0UtHkVRdmlp1Jhp38VIOv3Gu3BmRGHvMZkABXdSF9u3b0+3/AGV2GIMNX4mdGWwvQJDiCkgevffpVwdwgT2lPWx9J6EdRbUQD8fT5/o+Xeo8iRWwy4zLctbD3kuAKbcKCErT6gg/EH17fOvSf8HR4lHH1J4VyyaVqWnrsrrqvXXqzv8AT2/TWgvh38Smc+Hi/NwZVqjZLhz74E7Hrsyl9koJ95TJWD5K9E90jR17wNewXATHhi5Yx+18u8VYDjUd9pzqCmYDLUq3yR9ZCwke6sfP0III2CDU/Qz35u+49Kr1D511Q76nfqd9/hQuk/GrRA7Jcrk0slYFdUO9vrCvpHcKn0jYqLRGwuFVqg7ACq1iFKUoFKUoFKUoFKUoFKUoFKUoFKUoFKUoFKUoFKUoFKUoFKUoFKUoFKUoFKUoFKUoFKUoFKUoFKUoFKUoFKUoFKUoFKUoFKUoFYG8R1rx36fx7KF23kuFk1shzGbTkGE2Z+4usIdLZcivtNtOtqbcUhtWnkdO29hSTWeaUGnl8xrxC5nYb7eZmNzrZmd24itEaZ7Igx/NnpnSXZcNl1K+lqQtlSgkBf4tTyT1duqoE5xXeJUXmCV4cOJsrwK3XfGMViMxHrFKtbz7zFwlOXFpht5TJdX7MsJPluJCyvQcBJVXoBSg1u8G/HMrAbXlT8a6XAWq4yY3s9ndwWXizEJ5tCw64zGkurKvNC2+pSOlBLW+5KjUWxLDVRMnyNGScY5B/PXKuN/NlzqZY5M23ttvKfMF1uakKZjsIYWy35BKCFIUCgk9StuqUGiuE8HTczdi4hjXHeWYQ1ccAulk5En3iK+wi5Xt5uOiK/5jh1NfbeTIe9paKgEnXX7wFfTOePOaeTONrtyVO

The Dark Knight: Unleash your Darkness with the Next Generation MT-09
Sharper new look, refined riding position, intelligent technology
The Purest Hyper Naked
As the original Hyper Naked born out of the Dark Side of Japan, the MT-09 has always been the purest of all MT models, with its dark and mysterious aesthetic and grin- inducing performance leaving a lasting impression on every rider.
The game-changing MT-09 broke cover in 2013, just one year after the triple-cylinder CP3 engine concept was first shown suspended in an intricate wire frame at the Cologne Motorcycle Show.
The first MT-09 brought pure emotion and excitement back to the world of motorcycling, kick-starting the Hyper Naked revolution that would change everything.
For 2024, Yamaha has taken the MT-09 to the next level of Darkness, combining intelligence and style, further pursuing the sharpened purity of the Dark Side of Japan.
The new MT-09 offers an even more thrilling riding experience with pure adrenaline, aggressive and edgy styling and a premium specification featuring the latest in technological advancements.
A Decade of the Dark Side of Japan
The introduction of the MT-09 marked a step away from conventional Japanese motorcycle design and introduced a bold, abstract new direction for Yamaha inspired by the unique urban motorcycle sub-culture found on the streets of Japan's largest cities.
Signifying an exciting new era, the MT-09 featured aggressive styling, a chassis designed for the most agile handling and a torque-laden CP3 engine, with aesthetics and performance designed to stimulate the senses.
Stripped of unnecessary bodywork, packed neatly into a compact aluminium frame and equipped with Yamaha Chip Controlled Throttle (YCC-T), the MT was the perfect blend of high performance, cutting-edge technology and purposeful functionality.
The new dawn was here and the Dark Side of Japan was unleashed upon the world.
The Beginning of a Hyper Naked Revolution
Over the years, the MT-09 has evolved into one of the most significant and successful models in the Yamaha range, earning its status as one of the most iconic motorcycles in Yamaha's history.
The MT-09's introduction was soon reinforced by the arrival of the MT-07, another highly successful motorcycle that has established itself as the runaway market leader for many consecutive years.
The Hyper Naked segment is now one of the most important and successful in Yamaha's range, featuring a total of eight models progressing through the experience levels from the learner-friendly 125cc MT-125 to the 1000cc MT-10 SP, the halo model of the line-up.
New MT-09: Sharper, Purer, More Refined
A Slimmer, Sharper New Look
The MT-09 marks its 10th anniversary with a comprehensive new design intended to amplify the feeling of the CP3's iconic torquey acceleration.
Based on the concept of '3D Riding', allowing the rider to move more freely on the machine, the 2024 MT-09 bodywork is inspired by Yamaha's YZ motocross bikes, which also require a high degree of freedom in riding position.
The styling concept behind the MT-09 has always been that of 'functional beauty', eliminating unnecessary features and embodying a 'less is more' approach. Each and every detail has been re-considered to reinforce the MT-09's pure aggressive look and maximise an engaged riding experience.
More compact LED headlamp
A new LED headlamp, enclosed in a re-designed cover, creates a more unified relationship between the headlamp and the fuel tank and is inspired by the MT's origins – a blend of 'Naked' and 'Motard'.
The bi-functional LED projector headlight has been enhanced, featuring a compact diameter lense module that is both smaller and thinner than the previous model, but which still provides a broad and powerful beam with soft edges for both low and high beam settings.
Transparent twin LED position lights express a cool look with a sense of concentration to complete the MT-09's more compact, sharp and aggressive style.
This theme is continued at the rear with a newly designed LED tail-light. The tail-light and brake lights are separated to align with the new outer lens shape. And to give the whole rear a slimmer look, the upper tail-light lens is red, while the bottom has a smoked finish.
Sharpened fuel tank design
A new fuel tank has been designed to promote a more engaged and free riding position while maintaining the sharp and edgy aesthetic that has become synonymous with the MT name.
Produced using a new press moulding manufacturing method, the new tank offers sharper character with clearly defined edges and tense styling unique to the MT models.
A More Engaged Riding Experience
Amplified CP3 acoustics
The grin-inducing roar of the MT-09 is one of its most defining characteristics, evoking a sense of pure adrenaline with every twist of the throttle.
Following the Jin-Ki Kanno philosophy to stimulate the rider's senses and make them feel at one with the bike, sound was an important consideration in the development of the latest EU5+ CP3 engine.
The new MT-09's sound is further amplified by a revised airbox featuring two newly designed air-intake ducts which accentuate the high frequency sounds while maintaining a linear throttle response.
This sound is then emphasised, especially at higher speed and revs, by the introduction of a new acoustic amplifier grille on top of the bike, delivering the CP3's vibrant note directly to the rider.
Redefined riding position
The MT-09 is renowned for its stability and agility and this has been enhanced by refined ergonomics with modifications to the handlebar/footrest/seat relationship to improve rider comfort and offer greater freedom in movement for different riding styles while maintaining a sporty forward-lean riding position.
In order to achieve this, the overall handlebar position is now lower and the rider can now choose between two adjustable handlebar positions depending on their personal preference and physique. The steering angle is also increased as a result of the lower profile fuel tank.
The newly designed footrests are 30.6 mm back compared to the previous model and have been raised by 9.5 mm, while the footrest height can be adjusted to two different positions based on rider preference. To improve passenger comfort, the tandem footpegs have also been re-designed and are now mounted underneath the rear frame.
Details matter: new brake and gear shift pedals
Each and every detail of the MT-09 has been re-considered in order to further improve the riding experience. The rear brake pedal has been re-designed and is now made from forged aluminium, while the tip of the gear shift pedal has been significantly flattened to reduce the amount of ankle movement required during shifting, enabling smoother operation.
Separated rider and passenger seats
To further enhance the feeling of freedom, the MT-09 now features a separated front and rear seat, improving both rider position and convenience when mounting and dismounting the machine.
The step between the two seats also functions as a means of keeping the rider forward and over the front of the machine as the MT-09's torque is unleashed, while the overall seat design improves rider agility.
A Type-C USB socket is installed under the rider's seat to accommodate the charging of electronic equipment and electric heating wear.
Brembo radial master cylinder: linear power, total control
In order to match the MT-09's high torque and acceleration, stopping power is enhanced by a new Brembo radial master cylinder, which moves in the same direction as the brake lever resulting in a linear relationship between rider input and hydraulic brake pressure to the dual front brake discs for excellent controllability.
In addition, a newly designed adjustable clutch lever offers the rider further control when engaging the clutch.
Fully adjustable front suspension and Bridgestone S23 tyres
The MT-09's 41mm KYB® front forks are fully adjustable for preload, compression and re-bound damping and now feature revised factory settings to achieve excellent stability.
The rear suspension linkage design has been modified and the adjustable KYB® rear shock set to allow for a more dynamic feeling in cornering, while new Bridgestone Battlax Hypersport S23 M tyres offer high grip and light handling.
More Intelligent Technology
New 5" TFT full colour screen
The 2024 MT-09 is equipped with a range of next level technology to enhance the overall package and riding experience while remaining true to the Dark Side of Japan concept many have come to love.
An all-new, horizontally mounted 5" TFT full colour screen offers the rider an attractive new interface with the choice of four different themes to suit a range of different riding experiences.
Smartphone connectivity and navigation
For an enriched riding experience, connectivity comes as standard on the MT-09 via a built-in Communication Control Unit (CCU) meaning riders can stay connected while riding by linking their smartphone with their machine via the free MyRide app. As well as seeing call and message notifications on the 5" TFT display, a new dimension is added to the ride by the possibility of taking calls and listening to music via a Bluetooth headset*. Once connected, riders can also make use of the free Garmin StreetCross navigation system, which will display on the 5" TFT dashboard.
Riders can also personalise the TFT display even further by sending images from their smartphone via the MyRide app using the Information Transfer feature.
There is also the option to provide power to external devices by the new under-seat USB Type C socket.
*Bluetooth headset not included with MT-09
Intuitive new switchgear
New integrated handlebar switch assemblies enable the rider to operate the wider range of functions of the new MT-09, including smartphone connectivity, navigation and riding modes as well as navigating the further menu options.
Featuring a clear, logical and simple design – the shape, movement and ergonomic layout of the buttons have been designed with intuitive movement in mind, meaning riders can cycle through the various different functions with ease.
Customisable Riding Modes with Yamaha Ride Control settings
New for 2024, MT-09 riders can now further customise their riding experience via the Yamaha Ride Control (YRC) settings, which allow the rider to select engine power characteristics and the level of electronic intervention to suit their preferences and road conditions.
Three integrated riding modes, 'Sport', 'Street' and 'Rain' featuring factory settings with different intervention levels to suit various conditions are complemented by the option to pre-set two Custom modes. This allows the creation of specific YRC settings to suit certain situations (weather, location etc.) by altering the level of electronic support such as Power (PWR), Slide Control System (SCS), Traction Control System (TCS) and LIF (Lift Control) – all of which can be set directly through the MT-09's dashboard or using a smartphone via the MyRide app.
These personalised settings can be sent to the machine from the rider's smartphone and cycled between with ease while riding using the all-new switchgear.
Extra support from advanced six-axis IMU for ultimate performance
In 2021, the third generation MT-09 became the first Hyper Naked to be equipped with the high-tech six-axis IMU directly developed from the R1.
Constantly measuring acceleration in the forward-backward, up-down and left-right directions – as well as the angular velocity in the machine's pitch, roll and yaw directions – the six-axis IMU is able to send data in real time to the ECU which controls the suite of electronic rider aids, including the lean sensitive Traction Control System (TCS), Slide Control System (SCS), as well as a front wheel Lift Control System (LIF) and Brake Control System (BC).
This suite is further enhanced for the 2024 MT-09 with the addition of a Back Slip Regulator (BSR), which offers stabilisation when the rear wheel locks under excessive engine braking by controlling the level of torque produced – this is especially useful in situations when it is difficult to activate the slipper clutch for example when grip is low.
Cruise control for effortless riding
In addition to the comprehensive electronic rider aids, the new MT-09 is also equipped with a cruise control system to enhance the overall riding experience by offering a more relaxed option for motorway riding.
Operational in third gear and above, once the cruise control system has been activated, it can be adjusted in 1 km/h increments with a single push of the button or steadily increased by holding the button down. The system is cancelled whenever the brakes, clutch or throttle is engaged.
Soft-click and auto-cancelling turn signals
For a more intuitive and convenient riding experience, a soft-click of the indicator switch will flash the turn signals three times for use when lane-changing or when only brief indication is required. A full-click of the switch will result in continuous ?ashing until 15 seconds have passed and until the machine has travelled more than 150 metres. A new Emergency Stop Signal (ESS) function reacts to sudden braking by engaging the hazard lights to warn road users behind the vehicle is stopping at speed in an emergency situation.
Third generation quickshifter
The new MT-09 is equipped with the third generation quickshifter, enhancing the ride by enabling clutchless downshifts while accelerating and clutchless upshifts under deceleration.
To maintain a more natural feeling, the third generation quickshifter will not operate in certain situations when engine rpm is extremely low or high, and when the machine is neither accelerating nor decelerating. In these circumstances, the quickshifter icon on the new TFT display will indicate whether the quickshifter can be used.
Technical Highlights
Sharper, more compact looks including re-designed bi-functional LED headlight
New 5" full colour TFT screen with smartphone connectivity and navigation
Customisable riding experience via Yamaha Ride Control (YRC) settings
Modify YRC settings via smartphone with the MyRide app
Handlebar and footpeg position modified for a more engaged riding experience adjustable into two positions
Separated new seat unit
Precise formed new fuel tank
Acoustic amplifier grille
Latest 890cc, three-cylinder, four-valve DOHC liquid-cooled, EU5+ CP3 engine
Six-axis IMU with full suite of lean sensitive rider aids which now includes a Back Slip Regulator (BSR)
Cruise control
New Brembo radial master cylinder
Third generation quickshifter
New Bridgestone Battlax Hypersport S23 M tyres
Adjustable suspension for enhanced sports riding
Lightweight CF aluminium die-cast frame
Yamaha's SpinForged wheels for agile handling
Adjustable brake and clutch levers
Colours
The new MT-09 will be available in three colours: Midnight Cyan, Icon Blue and Tech Black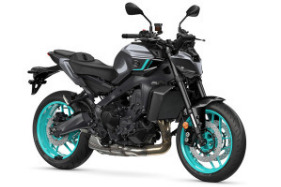 MT-09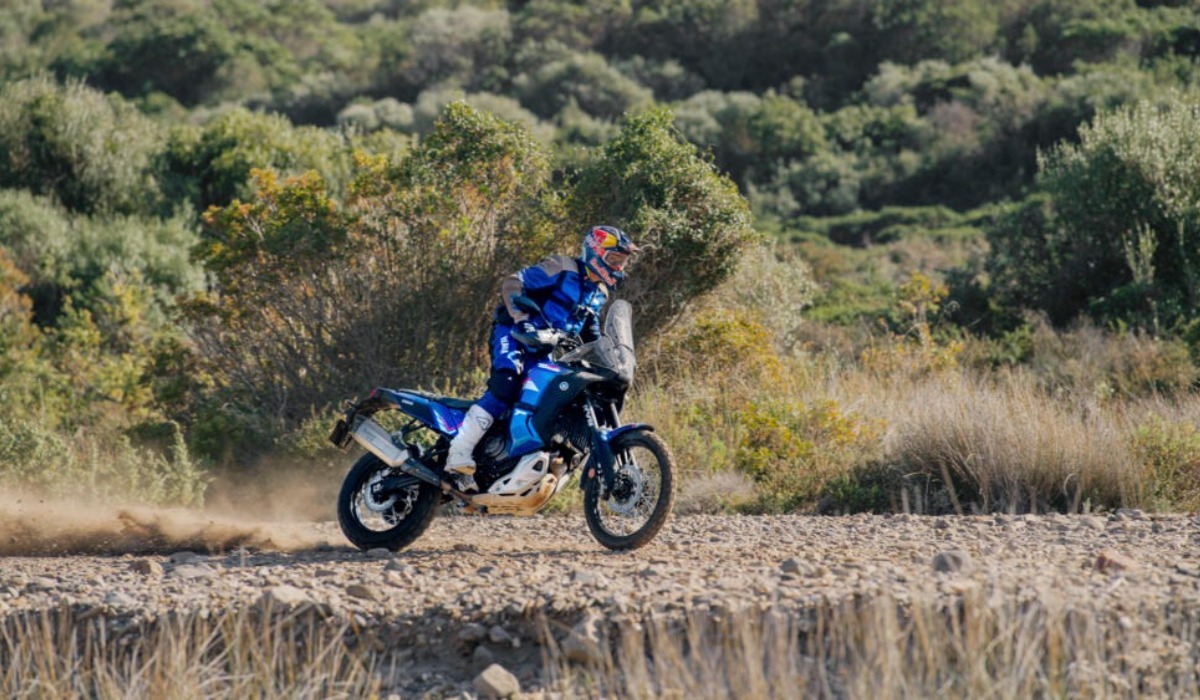 New Yamaha Ténéré 700 World Rally
Yamaha's ultimate high specification long distance adventure bike
Yamaha is proud to celebrate the 40-year anniversary of the iconic Te´ne´re´. Since its inception in 1983 with the XT600Z, the Te´ne´re´ has captivated the hearts and minds of adventure enthusiasts around the globe and this milestone calls for a grand commemoration.
Over the past four decades, the Yamaha Te´ne´re´ has forged its legacy as a symbol of the adventure spirit, exploration and resilience. From conquering the treacherous terrains of the Paris-Dakar Rally to inspiring riders to push the boundaries of what is possible, the Te´ne´re´ has become a true legend in the motorcycle world.
In the decades since Cyril Neveu claimed a historic double victory in the rst and second Paris- Dakar rallies in 1979-80 on the XT500, Team Yamaha has accomplished some incredible rallying achievements. Te´ne´re´ icons such as Jean-Claude Olivier, Serge Bacou, and 'Monsieur Dakar' Ste´phane Peterhansel, whose record of six Yamaha victories that began in 1991 remains unbeaten to this day, took their machines across some of the world's most demanding terrain. Most recently, legendary adventurer and Yamaha ambassador Nick Sanders nished his latest trip around the globe on his Te´ne´re´ 700, while factory riders Pol Tarre´s and Alessandro Botturi continue to make rally racing history on their the GYTR-kitted Te´ne´re´ 700 World Raid's.
To celebrate this remarkable journey and these legendary riders together with the Te´ne´re´ community, Yamaha has embarked on a 40th Anniversary tour across Europe. A collection of historic Te´ne´re´ production models (1983-2010), as well as original Dakar classics will be showcased, allowing enthusiasts to witness rst-hand the evolution of this iconic adventure machine.
In addition to a full line-up of the latest Te´ne´re´ models that event participants can test ride, the 40th Anniversary tour will also see the public launch of the new Te´ne´re´ 700 World Rally. Displayed in striking factory racing colours inspired by the YZE 850 that took Peterhansel to victory in 1993, the Te´ne´re´ 700 World Rally is a fusion of Yamaha's desert racing heritage with modern, world-class performance. A name synonymous with desert racing success and boundary-pushing technology, the latest generation Te´ne´re´ 700 represents four decades of experience and success coming together in a machine unrivalled in ability and adventurous spirit.
The Te´ne´re´ 40th Anniversary tour made a triumphant stop at the Adventure Bike Rider Festival, the largest adventure riding festival in Europe. The event was a resounding success, with a vibrant atmosphere and an overwhelming sense of excitement among attendees. Yamaha celebrated this momentous occasion alongside the passionate Te´ne´re´ community. Festival-goers had the opportunity to experience the Te´ne´re´'s prowess rsthand through thrilling o-road and on-road test rides on the latest Yamaha models. Expert demo rides showcased the Te´ne´re´'s capabilities in challenging terrain and to top it all o, Yamaha's ambassador, the legendary Nick Sanders, joined the festivities and shared his captivating adventure movie, leaving everyone inspired by his incredible journeys. The Adventure Bike Rider Festival proved to be an unforgettable celebration of Yamaha's 40-year milestone with the Te´ne´re´, solidifying its legacy as an icon in the world of adventure riding.
The Te´ne´re´ 40th Anniversary tour will visit the following upcoming events:
MaxlRIDE Motofestival | 25-27 August | Germany
Alpes Aventure Motofestival | 8-10 September | France
Te´ne´re´ Spirit | 24 September | Italy
Te´ne´re´ Spirit | 5 August | Latvia
Past events:
Te´ne´re´ Travel Trophy | 10 – 17 June | France-Andorra-Spain
Adventure Bike Rider Festival | 23-25 June | United Kingdom
Te´ne´re´ Spirit Aguilar de Campoo | 31 June – 1 July | Spain
More events might be added to the schedule throughout the year. For more information please contact your national Yamaha distributor.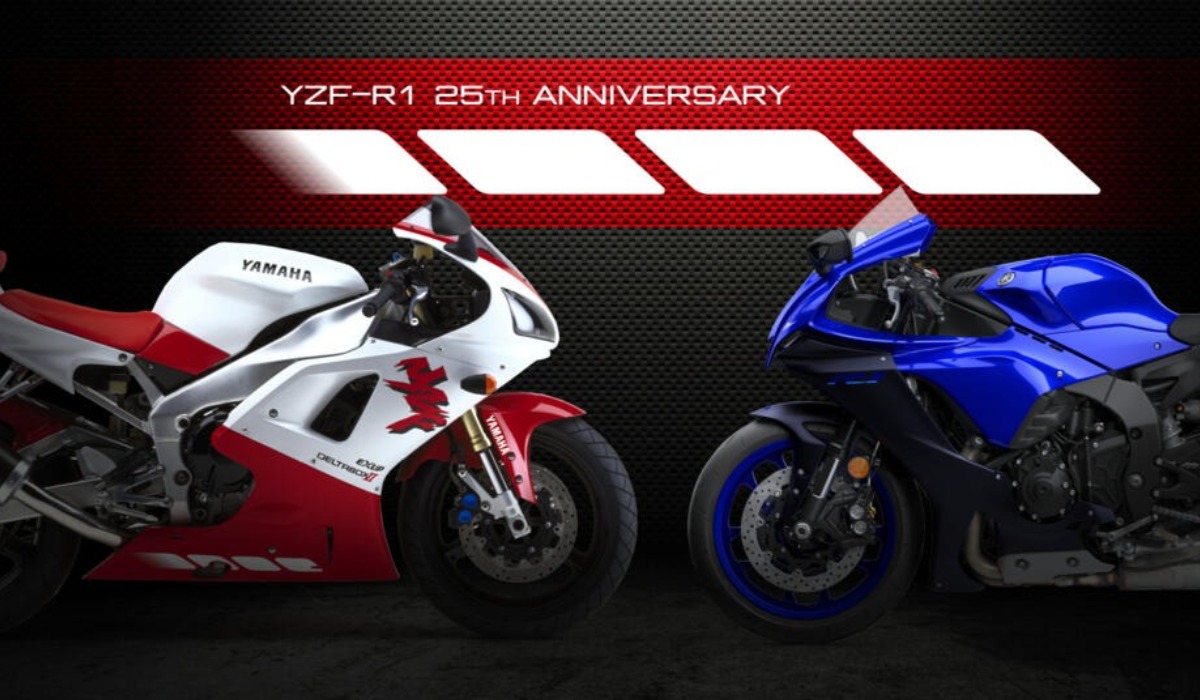 Yamaha Celebrates 25th Anniversary of the Revolutionary R1
Yamaha Motor Europe is proud to celebrate the 25th anniversary of the ground-breaking R1 with dedicated activities planned at the Yamaha Racing Experience (YRE). This year the YRE will be held at the legendary Mugello Circuit in Italy on the 21st and 22nd of July and will bring together some of Yamaha's biggest stars and enthusiasts to honour the remarkable legacy of the iconic machine.
Since its launch, the Yamaha R1 has redened standards of performance and innovation in the industry. Its 25-year journey of evolution is a testament to Yamaha's dedication to engineering excellence, which cemented the R1 as an icon of speed, power, and cutting-edge technology that revolutionised the sports bike market.
Making its grand entrance in 1998, at the core of the R1 was an innovative, compact, and lightweight 998cc, liquid-cooled, 20-valve, double overhead camshaft, four-cylinder engine which featured a ve-valve-per-cylinder head with redesigned valve sizes to boost torque and improved porting.
However, the real game-changer came from Project Leader Kunihiko Miwa's ingenious decision to create the world's rst vertically stacked gearbox in a production motorcycle, which resulted in a lighter, shorter engine that allowed for a longer swing arm, enhancing traction while maintaining a conventional sports bike wheelbase.
In addition to its innovative powertrain, the 1998 R1 introduced an all-new aluminium Deltabox II chassis, a heavily braced alloy swingarm, a Yamaha Monoshock shock absorber, and upside-down 41mm fully adjustable front forks developed in collaboration with O¨hlins.
This Grand Prix-inspired compact chassis and suspension setup oered unrivalled handling and manoeuvrability, setting a new benchmark for modern sports bikes, with the R1 producing an astonishing 150PS while weighing only 177 kg.
The R1's racing success was equally remarkable. At the prestigious Isle of Man TT, the bike made history in 1999 when David Jeeries stormed to the TT Formula One victory, in the process setting a record 121,235 mph lap, before going on to win the Senior race and the Production TT, conrming the R1's racing pedigree to the world.
As Yamaha continued to rene and improve the R1, the 2000 model was launched with revisions to over 250 parts, including engine and chassis enhancements, more aerodynamic bodywork, and a new titanium muer.
Two years later, in 2002, Yamaha introduced the next generation of R1, led by Project Leader Yoshikazu Koike, which showcased a groundbreaking vacuum-controlled fuel injection system that provided rened power output and a new Deltabox III frame which was lighter and yet 30% stronger in torsional rigidity.
The year 2004 marked the arrival of the fourth generation R1 featuring new engine with larger bore and shorter stroke and closed-deck cylinder design, as well as fracture-split (FS) connecting rods, RAM-air intake, new under-seat exhausts, revised chassis geometry and a sharpened body design. For the rst time a production motorcycle was achieving the 1:1 power to weight ratio, thanks to the 180PS delivered by the completely new power train.
The R1 that was unveiled in 2007 boasted Yamaha's innovative YCC-T ride-by-wire throttle system and electronically controlled variable air intake funnels (YCC-I). Project Leader Makato Shimamoto also introduced a new four-valve design motor, slipper clutch, an improved Deltabox frame as well as improved brakes and suspension.
Building on its legacy, Yamaha launched the next generation R1 in 2009, featuring a ground-breaking crossplane crankshaft engine, directly derived from Yamaha's MotoGP M1. This unique design reduced inertia forces and delivered a more linear throttle connection. Next to that, Development Leader Toyoshi Nishida introduced twin fuel injectors, a new lightweight aluminium Deltabox frame, cast magnesium subframe and cutting-edge electronics.
This model set the standard for handling and performance in the world of racing in 2009, highlighted by the incredible performance of American Ben Spies in WorldSBK, with the rookie recording 14 wins in 28 races to claim the 2009 title.
Reinforcing the competitiveness of the R1 that year, the YART Yamaha EWC team was crowned Endurance World Champions, while Leon Camier won 19 out of 26 races on his way to lifting the British Superbike Championship, and Katsuyuki Nakasuga clinched his rst Japanese Superbike Championship title.
Constantly looking to innovate, the 2012 R1 incorporated a traction control system that adjusted ignition timing, fuel delivery, and throttle opening to maintain optimal traction, enhancing drivability and fuel consumption.
To mark another ground-breaking step, the 2015 R1 was launched with a powerful 200PS engine and was the rst production motorcycle equipped with a six-axis Inertial Measurement Unit (IMU) and electronic support systems – developed and proven in MotoGP. With a dry weight of 179 kg and a host of racing features the 2015 R1 has been a sensation. Project Chief Hideki Fujiwara also introduced the top-of-the-line, limited edition R1M which featured electronically controlled suspension, a lightweight carbon-bre cowl, and an onboard data logger to cater to the needs of serious racing and track day devotees.
The 2018 R1 model oered riders an even more extensive array of sophisticated electronics, and the addition of a Quick Shift System (QSS) with a blipper function for clutchless up and downshifting took the R1 and R1M's performance on the street and track to the next level. The R1's handling performance was rened with more progressive mapping on the Lift Control System as well as revised suspension settings – and the O¨hlins Electronic Racing Suspension on the R1M featured a revised interface for a more intuitive set-up.
For 2020, the R1 featured a CP4 engine with new cylinder head, camshafts and injection system – while the extensive electronic rider aids were rened to ensure even higher levels of controllability. A new EBM (Engine Brake Management) enabled the rider to select one of three dierent engine braking forces to match riding conditions – and the new Brake Control (BC) system gave added condence and control when cornering. With revised damping valves and a reduced spring rate, the R1's 43mm KYB forks provided increased feedback for a more natural handling feeling. And for improved chassis performance and reduced lap times the R1M was equipped with a new rear shock and uprated O¨hlins ERS NPX gas pressurised forks.
Over recent years, the R1 and R1M have continued to evolve and remain a dominant force on the racing scene, with Pata Yamaha Prometeon Ocial WorldSBK Team's Toprak Razgatliog?lu and Andrea Locatelli leading the charge in the FIM Superbike World Championship. The highlight of which was Razgatliog?lu's 2021 WorldSBK Championship winning season that saw the Turkish rider rack up 13 race wins and 16 further podiums on his way to the title, while Italian Locatelli has grown from strength-to-strength on the R1 and has 11 podiums to his name so far.
On top of this, the R1 has demonstrated its prowess all over the world, with the Yamaha Factory Racing Team winning the historic Suzuka 8 Hours endurance race four times in a row between 2015-2018, plus Cameron Beaubier (2015, 2016, 2018, 2019, 2020) and Jake Gagne (2021, 2022) securing seven of the last eight AMA Superbike titles.
In 2021, Nakasuga would lift an incredible tenth Japanese Superbike Championship, with Tommy Hill (2011), Josh Brookes (2015), Tarran Mackenzie (2021), and Bradley Ray (2022) all being crowned British Superbike Champions on the R1.
As the legacy of the R1 continues to grow, Yamaha remains committed to pushing the boundaries of innovation with the introduction of the R1 GYTR. GYTR (Genuine Yamaha Technology Racing) is Yamaha's in-house specialist racing component division that has been developing performance enhancing technology for over 40 years. Designed specically for track-day riders and racers who recognise Yamaha's winning performance and premium quality, the 2023 R1 GYTR is faster and more precise than ever. Manufactured to comply with FIM Stock 1000 regulations, this high-specication machine provides individuals and teams with the ultimate canvas to create their own unique superbike. The R1 GYTR is equipped with over 25 GYTR race specication components including an Akrapovic race exhaust system, racing ECU, wiring harness, GYTR chassis parts, drive system and complete race cowling in primer white – plus much more. The R1 GYTR is available exclusively from GYTR PRO SHOPS.
To mark such a momentous anniversary, the Yamaha Racing Experience at Mugello will host the celebration activities for the R1, with the Tuscany circuit, renowned for its fast and challenging track layout that makes it a favourite among riders and fans alike, providing the perfect setting to honour such an incredible machine. Usually the event is exclusive to R1M customers, however the 2023 YRE will be open for the rst time to R1 owners to mark this momentous occasion, with two dierent options available to them to attend.
There are 25 spots available to R1 owners for the whole two days program, where they can enjoy the full Yamaha Racing Experience along with the R1M customers – which includes track sessions on both days, the ability to get advises from Yamaha racing technicians to give their bikes the optimum setup, exclusive tours of the Pata Yamaha Prometeon WorldSBK pit box, and much more. Click here (https://gstoo.de/YRE2023) to learn more and register for the two-day whole YRE experience.
There is also an option for R1 owners to attend just on Saturday, where they can register for up to two track sessions for
free and still enjoy the event atmosphere, and go behind the scenes in the Pata Yamaha Prometeon garage. For more
information on this option and to register to attend just on Saturday, click here (https://my.yamaha- motor.eu/survey/runtimeApp.app? invitationId=0Ki3X000001UbSg&surveyName=registration_for_yamaha_racing_experience_r1_track_session&UUID=e5e2bb- 12e5-4e8d-b491-1272a91b0dab).
The track sessions at the YRE will see owners get the chance to meet and ride alongside some of Yamaha's biggest stars from WorldSBK, including Pata Yamaha Prometon WorldSBK riders Toprak Razgatliog?lu and Andrea Locatelli, the GYTR GRT Yamaha WorldSBK Team duo of Remy Gardner and Dominique Aegerter, GMT94 Yamaha WorldSBK Team's Lorenzo Baldassari, Yamaha Motoxracing WorldSBK Team's Bradley Ray, plus YART Yamaha Ocial EWC Team's Niccolo` Canepa.
The 25th-anniversary celebration at the YRE promises to be an exclusive experience for all R1 and R1M owners to come together and celebrate these iconic machines, with a special exhibition of R1s from across the years and including a collection of some of the most memorable race bikes, with the event showcasing the R1's enduring legacy in the world of motorcycling.
Paolo Pavesio
Marketing and Motorsport Director, Yamaha Motor Europe
"We are proud to honour the 25th anniversary of the Yamaha R1 in 2023. The R1 has been a game-changer in the world of motorcycles, pushing the boundaries of performance and innovation and constantly evolving to be at the pinnacle of the racing world. It is a bike that has redened what is possible during the last 25 years with technology and innovations derived directly from MotoGP and WSBK. The Yamaha Racing Experience at Mugello will be something special this year, the perfect opportunity to salute such an iconic machine together with our customers and some of Yamaha's biggest stars."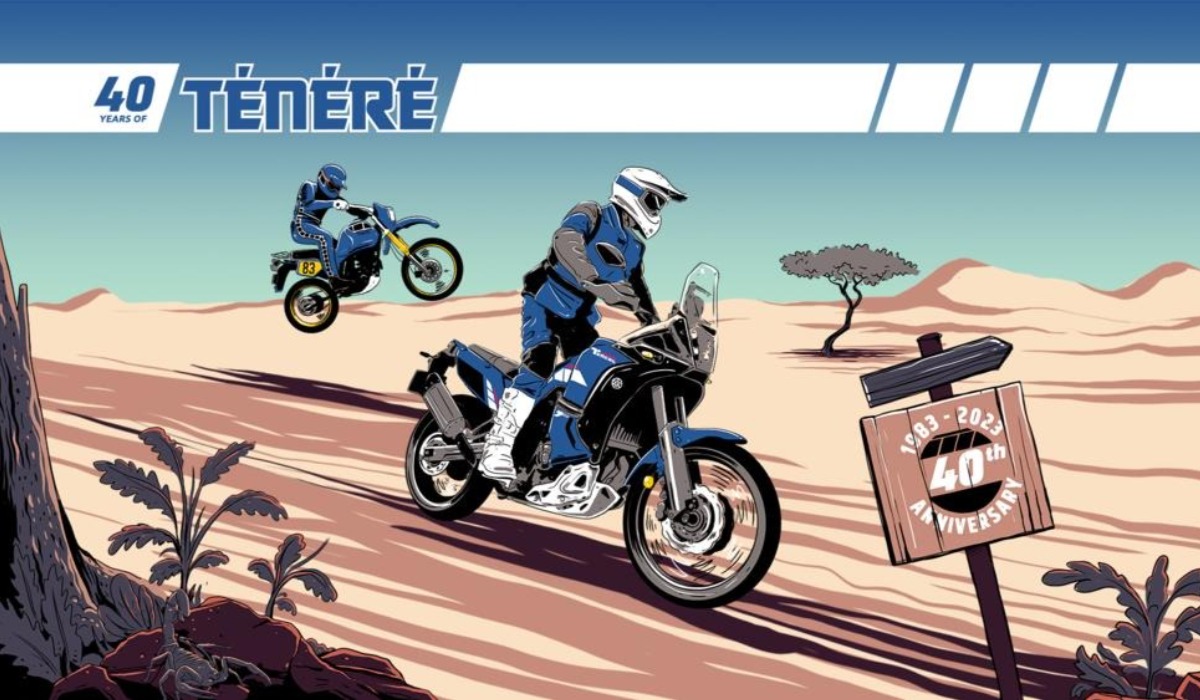 Yamaha celebrates 40 Years of Ténéré
Yamaha is proud to celebrate the 40-year anniversary of the iconic Te´ne´re´. Since its inception in 1983 with the XT600Z, the Te´ne´re´ has captivated the hearts and minds of adventure enthusiasts around the globe and this milestone calls for a grand commemoration.
Over the past four decades, the Yamaha Te´ne´re´ has forged its legacy as a symbol of the adventure spirit, exploration and resilience. From conquering the treacherous terrains of the Paris-Dakar Rally to inspiring riders to push the boundaries of what is possible, the Te´ne´re´ has become a true legend in the motorcycle world.
In the decades since Cyril Neveu claimed a historic double victory in the rst and second Paris- Dakar rallies in 1979-80 on the XT500, Team Yamaha has accomplished some incredible rallying achievements. Te´ne´re´ icons such as Jean-Claude Olivier, Serge Bacou, and 'Monsieur Dakar' Ste´phane Peterhansel, whose record of six Yamaha victories that began in 1991 remains unbeaten to this day, took their machines across some of the world's most demanding terrain. Most recently, legendary adventurer and Yamaha ambassador Nick Sanders nished his latest trip around the globe on his Te´ne´re´ 700, while factory riders Pol Tarre´s and Alessandro Botturi continue to make rally racing history on their the GYTR-kitted Te´ne´re´ 700 World Raid's.
To celebrate this remarkable journey and these legendary riders together with the Te´ne´re´ community, Yamaha has embarked on a 40th Anniversary tour across Europe. A collection of historic Te´ne´re´ production models (1983-2010), as well as original Dakar classics will be showcased, allowing enthusiasts to witness rst-hand the evolution of this iconic adventure machine.
In addition to a full line-up of the latest Te´ne´re´ models that event participants can test ride, the 40th Anniversary tour will also see the public launch of the new Te´ne´re´ 700 World Rally. Displayed in striking factory racing colours inspired by the YZE 850 that took Peterhansel to victory in 1993, the Te´ne´re´ 700 World Rally is a fusion of Yamaha's desert racing heritage with modern, world-class performance. A name synonymous with desert racing success and boundary-pushing technology, the latest generation Te´ne´re´ 700 represents four decades of experience and success coming together in a machine unrivalled in ability and adventurous spirit.
The Te´ne´re´ 40th Anniversary tour made a triumphant stop at the Adventure Bike Rider Festival, the largest adventure riding festival in Europe. The event was a resounding success, with a vibrant atmosphere and an overwhelming sense of excitement among attendees. Yamaha celebrated this momentous occasion alongside the passionate Te´ne´re´ community. Festival-goers had the opportunity to experience the Te´ne´re´'s prowess rsthand through thrilling o-road and on-road test rides on the latest Yamaha models. Expert demo rides showcased the Te´ne´re´'s capabilities in challenging terrain and to top it all o, Yamaha's ambassador, the legendary Nick Sanders, joined the festivities and shared his captivating adventure movie, leaving everyone inspired by his incredible journeys. The Adventure Bike Rider Festival proved to be an unforgettable celebration of Yamaha's 40-year milestone with the Te´ne´re´, solidifying its legacy as an icon in the world of adventure riding.
The Te´ne´re´ 40th Anniversary tour will visit the following upcoming events:
MaxlRIDE Motofestival | 25-27 August | Germany Alpes Aventure Motofestival | 8-10 September | France Te´ne´re´ Spirit | 24 September | Italy
Te´ne´re´ Spirit | 5 August | Latvia
Past events:
Te´ne´re´ Travel Trophy | 10 – 17 June | France-Andorra-Spain Adventure Bike Rider Festival | 23-25 June | United Kingdom Te´ne´re´ Spirit Aguilar de Campoo | 31 June – 1 July | Spain
More events might be added to the schedule throughout the year. For more information please contact your national Yamaha distributor.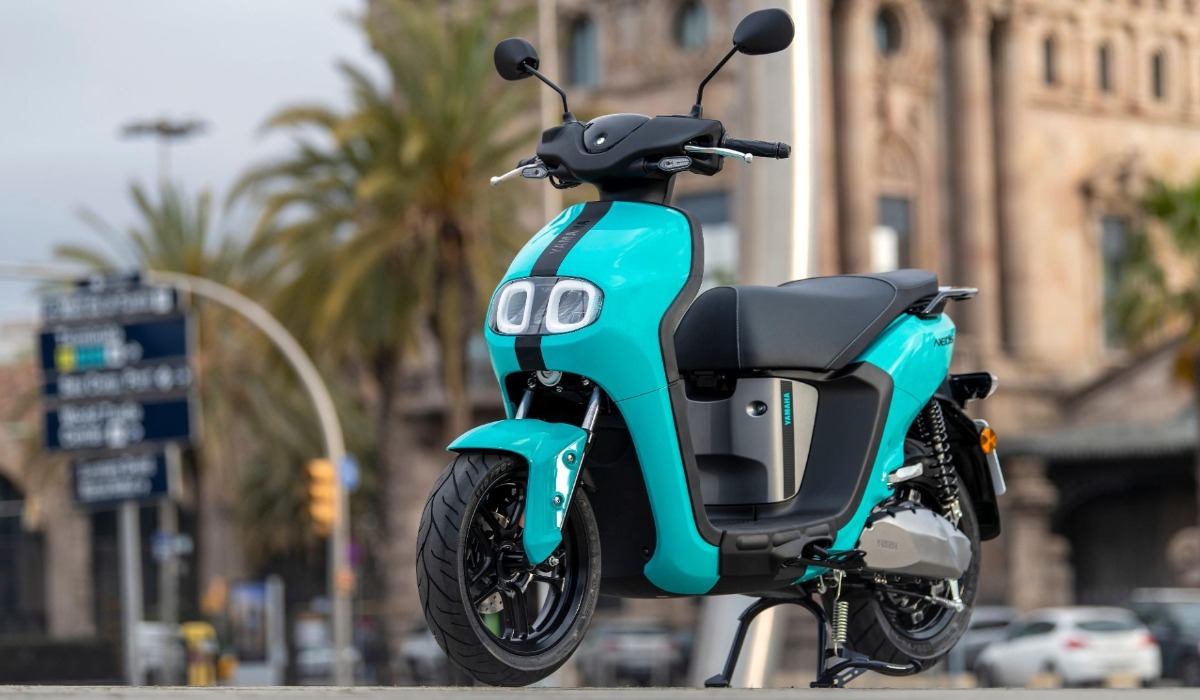 Move Smart with NEO's and NEO's Dual Battery Electric Scooters
Now available in new Aqua colour
The NEO's is Yamaha's first "50cc equivalent" mass-produced electric scooter to be released in the European market, and it marks the beginning of an exciting new era of zero-emission models from the Japanese manufacturer. Featuring simple and compact styling together with a relaxed riding position and connected instruments, the silent running NEO's is the smart way to move in the city.
Equipped with a removable lithium-ion battery giving a range of approximately 37km*, the NEO's is perfect for local urban trips – and with its extended range of up to 68km* the NEO's Dual Battery is an ideal choice for longer journeys. In May 2023 both the NEO's and the NEO's Dual Battery will be offered in a vibrant new Aqua colour alongside the existing Milky White and Midnight Black versions, giving scooter riders an even greater selection of zero emission zero noise urban transport.
*Tested in WMTC Class 1 in STD mode, fully charged battery at a temperature of 25°C